As the sun rose over the mountains in Merano Italy on Sunday morning, our friend and fellow speaker at the Santa Fe Symposium, Dr. Hubert Schuster, smiled a peaceful smile and passed over to the other side following a brief battle with lung cancer.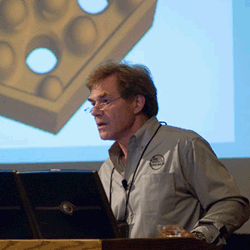 Hubert was a mighty Viking of a man with his thick red hair and huge hands yet able to make the most delicate and beautiful jewelry. When you shook his hand the first time, the visual did not fit precisely until you got to know him, and then it seemed exactly as it should be. Fine jewelry was his life and passion.
Hubert left us with volumes of research on new techniques and ideas about the jewelry industry, many of which were published by the Santa Fe Symposium. In his work he provided jobs for people all over the world helping to feed a multitude of families through his consultancy and lifelong teaching of jewelry skills. He helped so many without ever saying or doing anything that could bring him honor or glory.For many of us who called him our friend, life will not be the same, awaiting the clever smile and roaring voice of this good hearted bear.
.
Final services will be held in Hubert's hometown of Silandro, Italy on Thursday at 2:30 PM for those who might attend.
To honor our fallen friend, a scholarship program to attend the Santa Fe Symposium has been organized in his name. This annual not-for-profit event, co-founded by Eddie Bell, provides a forum in which jewelers can gather and share information and gain the knowledge they need to manage their businesses more successfully. Those interested in donation or application for consideration for the Hubert Schuster Memorial Scholarship should contact Janet Haldeman at Rio Grande for more information.
Latest posts by stevenadler (see all)