Taweesak Molsawat is an Instructor of Industrial Design and Jewelry/ Metalsmith, King Monkut's Institute of Technology Ladkrabang, Bangkok, Thailand. In addition, he is a Visiting Assistant Professor of Jewelry Design, Decorative Department, Silpakorn University, Bangkok; Visiting Assistant Professor of Product Design, Architecture Department at Khon Kaen University, Khon Kaen; Visiting Assistant Professor, (Furniture Design) Interior Design, Architecture Department, Assumption University, Bangkok; International correspondent, IDesign Magazine; and Studio Artist/Designer, Bangkok, Thailand. Besides, he has been conducting lectures and workshop internationally.
He is a former an Assistant Professor of the Jewelry/Metals program at San Diego State University, San Diego, California. He holds an MFA with Honors from The University of Kansas in Lawrence, Kansas and a MA from Texas Woman's University in Denton, Texas, and a B Arch in Industrial Design from King Monkut's Institute of Technology Ladkrabang, Thailand.
Mr. Molsawat's work has been featured internationally including the Victoria and Albert Museum, England; Jurors Exhibition, China-ASEAN Youth Artwork Creativity Contest 2007, Nanning, Guangxi, P.R. China; SOFA Chicago; FullerCRAFT museum, Brockton, Massachusetts; Gertrude Herbert Institute of Art, Augusta, Georgia; Kunsthandwerk im Museum, Ostholstein-Museum, Eutin, Germany; Silpakorn       University, Bangkok, Thailand; The Barents Spectacle, Kirkenes, Norway; The Tromsø Kunstforening, Tromsø, Norway; Electrum Gallery, London, England;  Beach Museum of Art, Manhattan, Kansas; Mulvane Art Museum, Washburn University, Topeka, Kansas; Museum of Abilene, Abilene, Texas; Sculpture to Wear Gallery, Santa Monica, California; Facere Jewelry Art Gallery, Seattle, Washington; Byron C. Cohen Gallery, Kansas City, Missouri; Velvet da Vinci Gallery, San Francisco, California; and Objects of Desire Gallery, Louisville, Kentucky. In addition, his work is in private and corporate collections as well as various publications.
Mr. Taweesak has received numerous awards and honors, including Thailand Best Design of the Year 2005 Awards, Silpakorn University, Bangkok, Thailand; Research, Scholarship, and Creative Activity Award, The Edges of Grace: Provocative, Uncommon Craft, San Diego State University, San Diego, California; SNAG Cultural Diversity Award, Society of North America Goldsmith Conference, Seattle, Washington; Honorable Mention, The Northwest Chapter of The Florida of Goldsmiths, Tallahassee, Florida; The Best of Show, The Octagon Center for The Arts, Ames, Iowa; Brooklyn Union Award of Merit, Staten Island, New York; and 1999 NICHE Student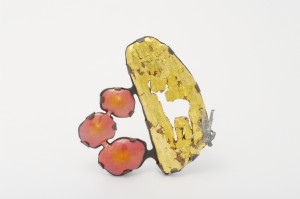 Artist's Statement
My work is derived from my experiences of being in different cultures and my Buddhist heritage.  The focal point of my work has been the questions, reflections and searching for the answers to Life's everyday events and experiences that profoundly affect our way of living by examining the ways of using everyday objects as contemporary symbols for today's cultural structure. I utilize my work as a mirror to examine our roles and responsibilities to the community and the world.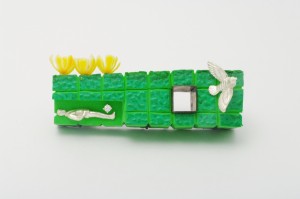 The collapse of family and community structures, sexual and racial discriminations, economic exploitations, prejudices, and the abuses of power are some of these concerns. I believe that the causes of these problems are the outgrowth of a materialistic world and the diminishing of a true understanding of the Self. Today's capitalism keeps us divided into separate categories and groups; and forces us to don false social masks that cause us further suffering. We must look and search within ourselves in response to today's society.
In my work, I am not only using the elements from both eastern and western cultures to describe universal issues but also exploring non-traditional materials such as fresh flowers, hair, salt, fiber, plastic, and wood intricating with traditional metalsmith materials such as enamel, copper, and sterling silver that help define the contexts of each piece. I also examine the ways of using everyday objects as contemporary symbols for today's cultural structure. The preciousness and the value of the work are from the ideas that the work communicates not from the value of materials. In addition, I am investigating the arrangements and the interactions between the work and the viewer. I want to challenge the viewer to participate both psychologically and physically with the work. In my work, I pay equal essential attention to both conceptual idea and craftsmanship.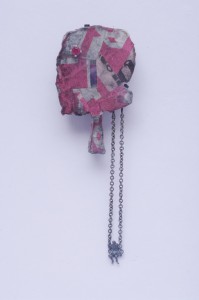 In my recent body of work, I am investigating our everyday cultural activities regarding the social, cultural, political, economical, and personal issues to reveal our humanity in today society. The focus is on our interrelated activities and social issues in the diverse society today. This work will explore and investigate the graphic signs in brooch format as an open ended language. The work is intended to be the catalysts to question and provoke interpretations and thoughts for the audience to engage and interact with the work.
*** Taweesak's works can now be viewed at ATTA Gallery till October 10, 2010.  His most recent  works will be exhibited at ATTA Gallery during "11 Artists, 11 ATTAs" exhibition running from November 11-December 18, 2010.