I finally had another good show! The Crocker Art Museum Christmas Craft show in Sacramento was fabulous for us: terrific turn out, well run, easy setup and tear-down, and very nice and helpful volunteers. We were a bit dismayed when we arrived to find that our expected 10×10 was actually 8×10, but after a bit of creative thinking, and with the help of some of the other crafters, one of whom loaned me a couple of lights that would work without my overhead canopy poles, we got everything worked out.
I would really recommend that you do not start your next show the way I did, however. At 6:30 AM on the first day of the show (yep, we're talking set up day here) I lost my footing on the stairs and buggered up my ankle. I was limping a bit, but wasn't terribly concerned. By the end of the day my foot was quite swollen and a bit purple here and there. The following day it was very colorful and swollen even more. My neighbor at the show gave me an elastic bandage so I was able to hobble around. Still focusing on the terrific sales, I was very upbeat.
Awaking on Sunday, I could barely get my shoe on! Had lots of Aleve on hand and began to think fondly of home and doctors. Even my poor toes were purple by now, barely walking, and the restroom seemed miles away. Sales are still great so that helped. During tear-down I had the help of not only my husband but two other crafters who helped tote stuff to my car. Glad to be home!
Now all I have to do is get to the doctors today to see if it's just a sprain or if something more serious is going on. I have my last show to set up for this Friday, so hope to get some relief by then.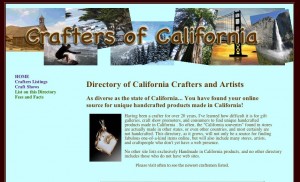 This morning I worked a bit on the craftersofcalifornia web site. I think it's coming along nicely. Please hop on over and have a look. I've talked with several fine crafters and artists who say they are going to send in the app, but so far no follow-through. It's a busy time for everyone, so I'm hopeful that I'll see more apps coming in after the holidays. Fellow Ganoksins, if you live in California, please send me your information and get a free listing on the site. 
Better get back to work now, only three days to restock for my next show; talk to you all again later.
Latest posts by bevludlow (see all)