Last night, I received an email from Nancy Howland's daughter, telling me that Nancy died December 12, 2009.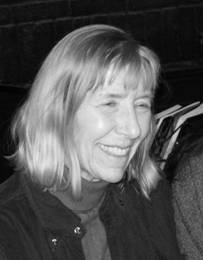 Nancy was my friend via Orchid.  We "met" when she posted about some difficulties and successes with granulating fine silver. I remember excitedly suggesting that she try granulating with Argentium Sterling, which had recently become available in the U.S. As nearly as I can figure out, that was early in 2006, because the first email I can find is dated 3/25/2006, when she sent a photo of her first Argentium Silver granulated earrings. (I believe that this was around the same time that I encouraged Ronda Coryell to give granulation of AS a try, when we spoke in Tucson, where I was demonstrating soldering and fusing Argentium Silver at Rio Grande's 2006 Catalog in Motion.)
Nancy and I shared a passion for Argentium Silver's unique and wonderful working qualities. She wrote an interesting article about granulating Argentium Silver, as well as an article about how to differentiate fine silver from Argentium Silver. Nancy shared her discoveries on Orchid, as well as in emails with me and with Peter Johns, inventor of Argentium Silver.
Nancy, thank you. You will be missed!
Cynthia Eid
Below is a copy of the email I received from Nancy's daughter, and a copy of Nancy's obituary.
Hello Cindy,
I am Nancy Howland's daughter.  I have been going through my Mom's email and found your contact info.
Since my Mom often mentioned how much she enjoyed her correspondence with you and her admiration of your work I thought that I would let you know that she passed away on December 12th, 2009.
I have attached her obituary for you to read. Please feel free to share this with her other Orchid friends.
Sincerely,
Karin Eichhoff
Nancy Mae Howland, age 69, passed away peacefully December 12th after 6 days at Hospice Care, active and uncomplaining to the end, during a two year bout with cancer.  She was preceded by her parents, John and Leona Phillips.


Nancy, born 11-14-1940, was reared in Fresno, where she was active in school sports and journalism before going to Fresno State.  She graduated from FSC with a joint B.A. in Fine Arts and Psychology, two life-time interests.  There she met and married Chuck, 50 years of complete devotion, recently saying "it has been a good trip, hasn't it."
In California and Wisconsin she postponed art for a career in social work and social policy writing until she retired, then threw herself 100% into art metal jewelry (see her website psi-design.com).  She fashioned her jewelry out of love of design, not profit, preferring to innovate and move on to new designs rather than repeat.  Encouraged by Lynn Fieldhouse and her advanced M.A.T.C. art metal classes for 10 years, all of her silver jewelry was made from scratch (flat silver discs and wires). Nancy wrote articles for Lapidary Journal and Art Jewelry, wrote the only step-by-step instructional book in 2,000 years on Doming Silver Beads and granulation (designs with up to 250 hand-made balls fused on a small silver earring). She enthusiastically joined the Orchid website group, with its 5,000 dedicated jewelry makers, and her communications were highly respected, from her experience rather than technical metallurgy.   One of Nancy's profound regrets was not being able to attend her class this semester.
A homebody, she loved her home, and came to love Wisconsin and its sports (on tv) in spite of its non-California climate. Nancy's idea of a "fine dining experience" was definite – the Maharajah, Copper-Top, and Hacienda every week for a decade. Thanks, guys, so much!  Nancy never tired of your many wheat gluten-free choices and super friendly staff.
As a social worker, she was unusually sensitive, intelligent, and practical.  As a social policy writer  for the state, standing between legislators and clients, she thoughtfully strove to trouble-shoot and  write fair-minded policy out of often confusing and nonsensical political rhetoric.  She had enduring faith that the Wisconsin vision was fair and progressive and that bad times could be overcome. During her public career she had important but unpublicized parts in shaping public policy on hot-button areas such as the Community Options Program, Chapter 55 regarding elder abuse, SSI programs for the disabled, and was the only state representative for corporate guardians (when no individual guardian could be found), and SSI.  At one time she co-directed Link House and Rushmore House, two ground-breaking, novel group homes for girls.  Seamless teamwork (with Glenn, Charlie, and Linda, and many others) was Nancy's hallmark, but never wanting to be a supervisor, so that she could stay in the front lines.
Having a wonderful daughter, Karin was the supreme joy of her life, and her fondest memories involved Karin's childhood and progress in life.  Her sister, Lois, with Karin and Nancy formed a wonderful team, sharing family, computer ideas, and artistic support for their whole life.  Every week featured two to five hour conversations with Lois and Karin and could not be disturbed for any reason.
Fifty years since their first date, never apart from her husband, she will be missed.
The visitation will be at Cress Funeral Home at 3610 Speedway Road, Madison, from 11:00 to 1:00, Saturday Dec. 19th.
Her website is http://www.psi-design.com/index.html
Latest posts by Cynthia Eid (see all)