It might be a little hard to wear around your neck, and one of the craziest gold objects, but to help raise awareness for Science World's current Treasures exhibit, they produced this billboard made out of real 22 karat gold to communicate the fact that only 2 oz. of gold can cover 200 sq. ft — which also happens to be the size of this billboard. They actually did it in 2010 to promote their treasures exhibit to prove just how amazing gold is. Warning then, don't even think about stealing it because a Paladin security guard will be standing by it around the clock. Oh, and also the gold is pounded so thin that it'll literally disintegrate into thin air if you tried to chip it off.
The actual process they did to achieve it and an up close evaluation of the gold brick is still beyond us.
But, we did find this pretty amazing, as well as, a fun read.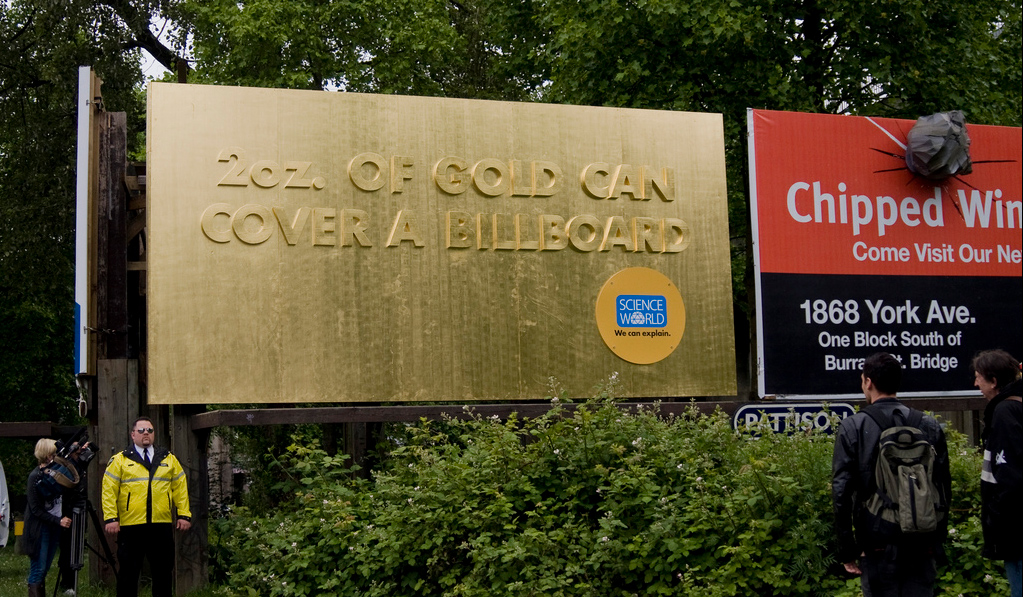 Gold Billboard
http://cgmfindings.com/cgm/content/creating-amazing-gold-objects-through-science
Latest posts by CGM Findings (see all)
Latest posts by CGM Findings (see all)