Instead of using shellac and its inherent cleaning problems, there is another little item you can find in any jewellery supplier. It's a pin-vise; this essay details all of it's many capabilities. As you can see, I used a wooden handle for easier holding, or clamping of items!
Some time ago I was inundated with scores of little pendants to do some diamond setting. There would have been a waste of time to use shellac or any other less secure holding method. I went to my favorite tool supply house and noticed a pin-vise. It had a such a rudimentary metal, thin handle not made for the long hours of holding.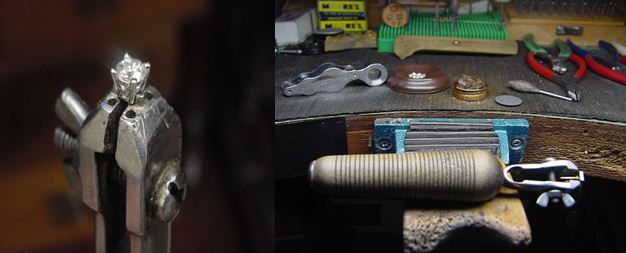 I bought this item removed the steel handle and transferred it with a tapered wooden handle, the kind that is similar to bedroom mattress legs. Now came the top section that was looking for detailed modifications. I drilled out two holes on its top of the jaws, and fitted little soft steel nails to accommodate the holes being drilled out. I had my jewellery friend to "brass solder" for full security, these two pins into the holes.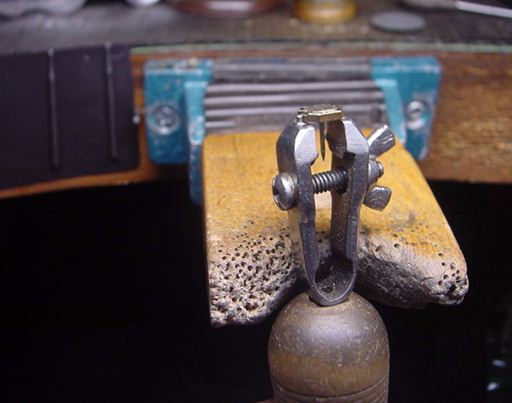 Not finished yet! I grooved out little notches in the steel pins to actually hold a little pendant. Tightening the "adjustable screw" it worked. I found out that over-tightening the screw could leave marks and disturb the finish of the gold. So I delicately rounded off the sides of the two grooved pins. I used a sanding disk (fine texture) and even Pumice wheels of #180 grit. It finally worked, and it has been "my friend" for many years!
I use it for "double gallery, earring studs", unusual shaped pendants and earrings.
I noticed after that the "screw earring pin" does not come in any contact to any part of the mini-clamp.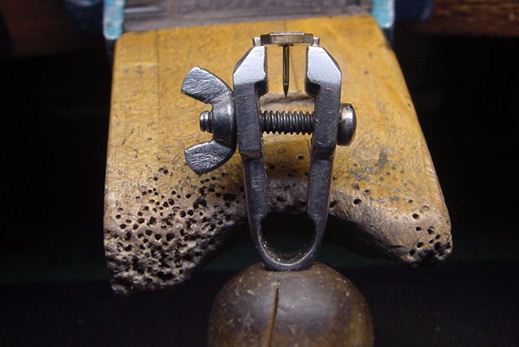 Gerry Lewy
With over 42 years experience as a stone setter, Gerald N. Lewy, president of Gemz Diamond Setting, is known throughout the diamond setting community as 'Gerry the Cyber-Setter'. Gerald Lewy started his 9-year apprenticeship with a jewellery manufacturer and tutored by a gentleman 'setter', in Haddon Gardens, London England. Gerald has redeveloped himself into more than a master setter; his purpose is now to be a teacher of the art as well. If you have any questions on Diamond / Stone Setting you can contact him through this blog
Latest posts by Gerry Lewy (see all)