Stone Setting Classes Notes
There are many "pro's & con's" in teaching stone setting classes in a classroom, against private tutoring. I will explain both venues in great detail. These are my own observations, as I met met them both. I still teach both of these venues & relish being an instructor at any time, and anywhere!
…Gerry Lewy!
Images of Stone Setting Classes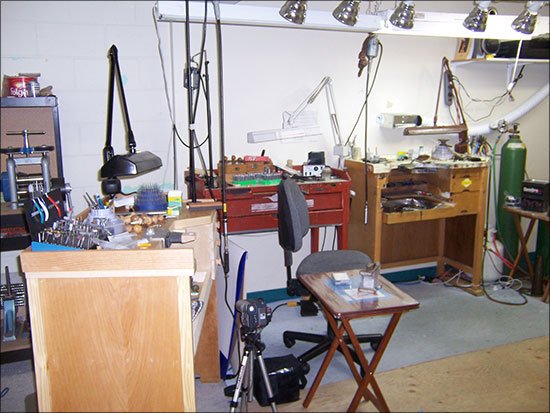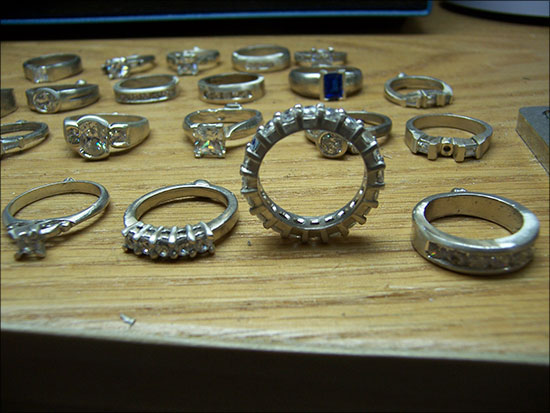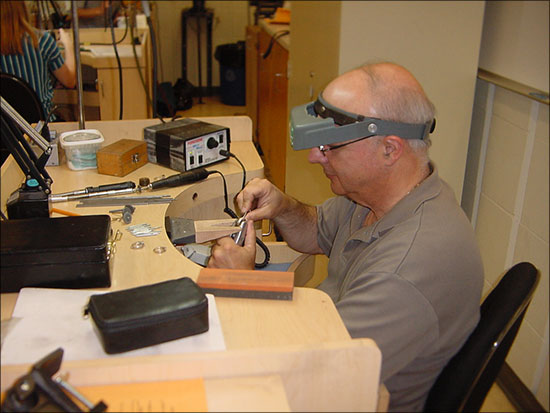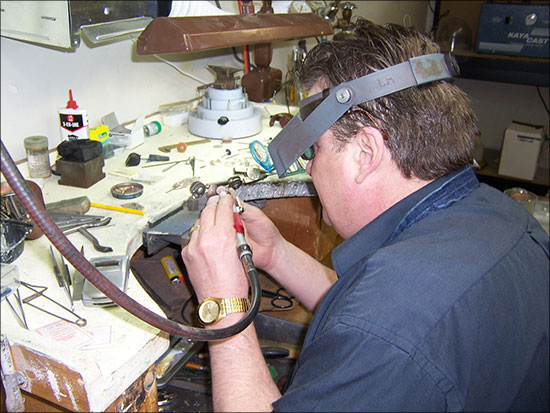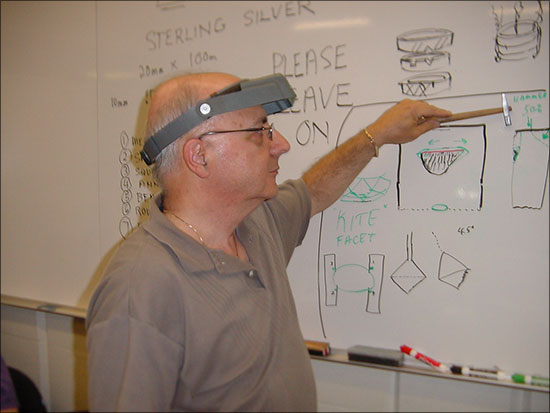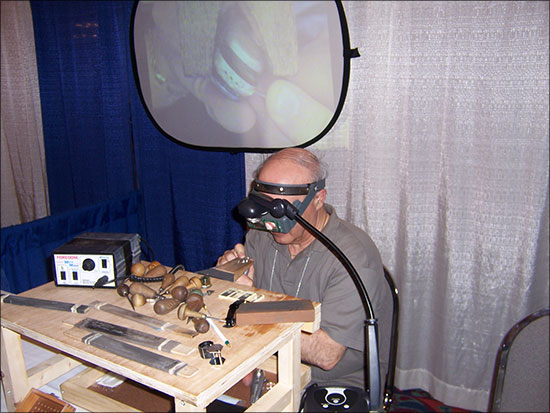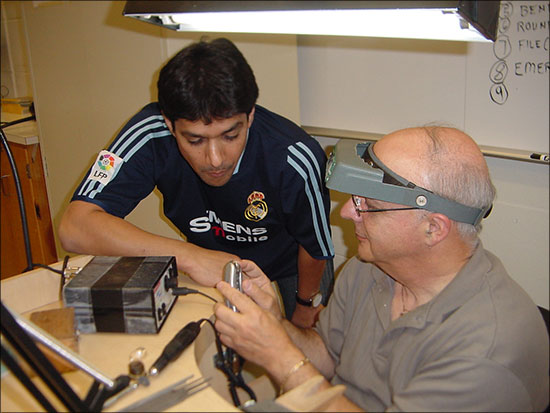 Stone Setting Classes: Classroom Teaching vs In-Shop Week Long Training Sessions
"Pro And Con" Observations 
From This Author / Teacher / Setter!
On my numerous visits around Canada and USA, I have been cordially accepted as a class- room teacher, as well as an active diamond setter. This familiar name title is easily recognized from my many years as a teacher at a community college here in Toronto. One of my many roles as a teacher is to travel to individual stores that have a bench craftsperson of either gender, and pass on my skills as a setter, as well as an instructor.
With equal admiration to the student of either background, I wish to give the reasons just why "in-shop" training-sessions can be by far more rewarding to the student.
I prefer at this moment to give you the 'pro and cons' for each method of training. These are my personal observations, and not taken by a business poll or from outside sources.
Stone Setting Classes: The Classroom Environment
When I introduce myself to the class of estimated 10 or more students, I am concerned how many of those present will actually pick up on my skills, and hear me clearly. Also not too mention how many will use these new skills to the best of their ability? This is a daunting task, why? It is a very highly skilled labour intensive craft and such a craft cannot be taught with the aid of a video, or simple text bookit has to be shown up front at 'first hand! Everyone in my class 'must' be motivated 100%, if not they will loose out in learning this new skill. I must administer information equally and prepare myself at a minutes notice to repeat each setting demonstration. For each step and I must make numerous diagrams to explain just what I am attempting to teach.
While during these two methods of training, diagrams and physical demonstrations, I must teach a 'setting step' at their level of expertise, simple isn't it? This new 'learning curve' for them is very taxing on their minds. Frequent pauses with stories or actual stepping away from the bench so they, the new student, will be able to digest this skill. I frequently ask for questions on any topic as long as it's pertaining to setting. To me, and them this can be a little mind vacation while subconsciously digesting the new facts just being given. A new setting skill can take up to one hour in duration. This method of teaching is quite normal for beginners, not necessarily for 'seasoned' bench-jewelers.
My next reason for not agreeing to a classroom instruction is as follows: I might have 10 students at one class, the following class only 8-9 might turn up. These 2 will not be able to pick-up the last lesson. My job is to teach day to day. If they miss one day, they will loose much 'given information'. If they even miss one single day, they will now be behind in their studies. Such is the 'academic life' at this college.
My next negative observation, is that some of my students are willing to speed-up in their learning curve, while many others are reluctant to even ask a simple question. I then have no idea at what setting level they are getting into. If they seem to be falling behind in their newly acquired skill, am I just going to 'push them along' with a bare passing mark? Hardly, is my reply! In each class of 10, I might have 10 levels of expertise, or levels of learning. Some are like 'sponges' in their quest for learning, while others may be are slower, it's un-nerving to the 'rest' of the group! One thing for sure is that I will not give a student an 'artificial passing mark', just to let them proceed onward!
All political & religious problems are not permitted in any class. No playing with motors, or machines on a 'fun' basis, if so, a fail mark and also being expelled!
Stone Setting Classes: In – Shop Training Programs
In reference to my next segment of this essay here is my 'almost' favourite option, and that is a "one-to-one, 3-5 day training program". These are the positives, and again the negatives to be mentioned at the very end of this writing.
More personalized teaching and training can lead to a more relaxed atmosphere from this write/teacher and of course the client / student. The most interesting point to this method of training is that the client has a direct need to learn this new skill. There is no being absent for a day or two. Greater interest in learning, as each newer topic being taught has a direct approach to his/her future need in his/her bench skill. All desire to and want to learn is of a genuine interest. I will sit with this person for as many hour s a day as they want to watch what I am doing. Their confidence at this newer skill is in many ways a remarkable indication of the wanting to learn. Many times a simple alternative or approach is enough just for that one simple day of training. My method, or a newer option to a setting skill / technique is all that they need to know. This has happened many times in my 6 years of training. It can be just a simple using a different tool or file, is enough to waken up and spark more interest during the day-session. Coffee breaks again can be a an academic discussion on setting practices. A whole day of talking to just one person can be as well both rewarding and enriching to both concerned. The client is using his own tools, bench, motors and he is on his own environment. He is totally relaxed !
WE work at our own speed, we can be totally involved in learning a new or upgrading a refreshing skill.
Stone Setting Classes: Encountering the few negatives of 'In – shop" training sessions!
With any retail establishment, there are clients who want some repairs to be done at a moments notice. If so, time is then wasted for about one hour of any training. Interruption of the flow of thinking, the client and myself. Telephone calls can also interrupt these two working individuals!
What happened with one of my clients is that he closed down his store for one full week, he also put his telephone on to a recorded message and also his cell phone went on to a vibrate. He learned so much more with these closing down his store. WE all succeeded in doing what was necessary for the full 40 hours of training.
This was only a little price to pay, but all were happy from this 'preventive' exercise. Another recent client had his wife continually call him on his intercom for questions. He then went upstairs and dealt with the retail clientbad move! I was left in the lurch for
many an hour during this 1 week of "lost" training. Also bad planning on his behalf! I then left his store with a feeling of not getting done what I was called in for.
I now close this essay with many 'pro's and con's' for these two methods of training. Each form of training does have its merits for discussion. Both of them do have their place in this educating scenario. I leave the answers to you to decide which is better.
"Gerry, the Cyber-Setter!" a.k.a. Gerry Lewy!
Gerry Lewy
With over 42 years experience as a stone setter, Gerald N. Lewy, president of Gemz Diamond Setting, is known throughout the diamond setting community as 'Gerry the Cyber-Setter'. Gerald Lewy started his 9-year apprenticeship with a jewellery manufacturer and tutored by a gentleman 'setter', in Haddon Gardens, London England. Gerald has redeveloped himself into more than a master setter; his purpose is now to be a teacher of the art as well. If you have any questions on Diamond / Stone Setting you can contact him through this blog
Latest posts by Gerry Lewy (see all)
Gerry Lewy
With over 42 years experience as a stone setter, Gerald N. Lewy, president of Gemz Diamond Setting, is known throughout the diamond setting community as 'Gerry the Cyber-Setter'. Gerald Lewy started his 9-year apprenticeship with a jewellery manufacturer and tutored by a gentleman 'setter', in Haddon Gardens, London England. Gerald has redeveloped himself into more than a master setter; his purpose is now to be a teacher of the art as well. If you have any questions on Diamond / Stone Setting you can contact him through this blog
Latest posts by Gerry Lewy (see all)