Here goes the show circuit application process cycle again… whew – what a mouthful! I've already sent out quite a few apps and have another round coming up.
This year I'm trying something new. I'm applying for more exhibits and fewer out of state shows. The economy's been a little wonky, some large Ohio businesses are still making fresh cuts and laying off employees, and I just don't have a good feeling that things are solid enough yet. I'll bet the rest of the US is experiencing similar issues, too.
Since I'm still young in this medium, my resume is a bit thin, and getting into some exhibits across the country would be good exposure without the cost of travel. I'm also beginning to work with more galleries to create a steadier cash flow. We'll see how it goes!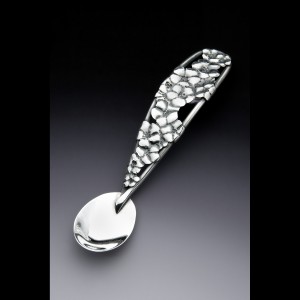 The new photo above is a baby spoon I worked in sterling. It's about 4.5 inches long, and is entirely chased and repoussed by hand. The flowers are a little cascade of forget-me-nots that create a wide textured area for sweet baby hands to grab. Sterling's also a joy for teething tots since the metal stays nice and cool on the gums.
Latest posts by jenibuckingham (see all)