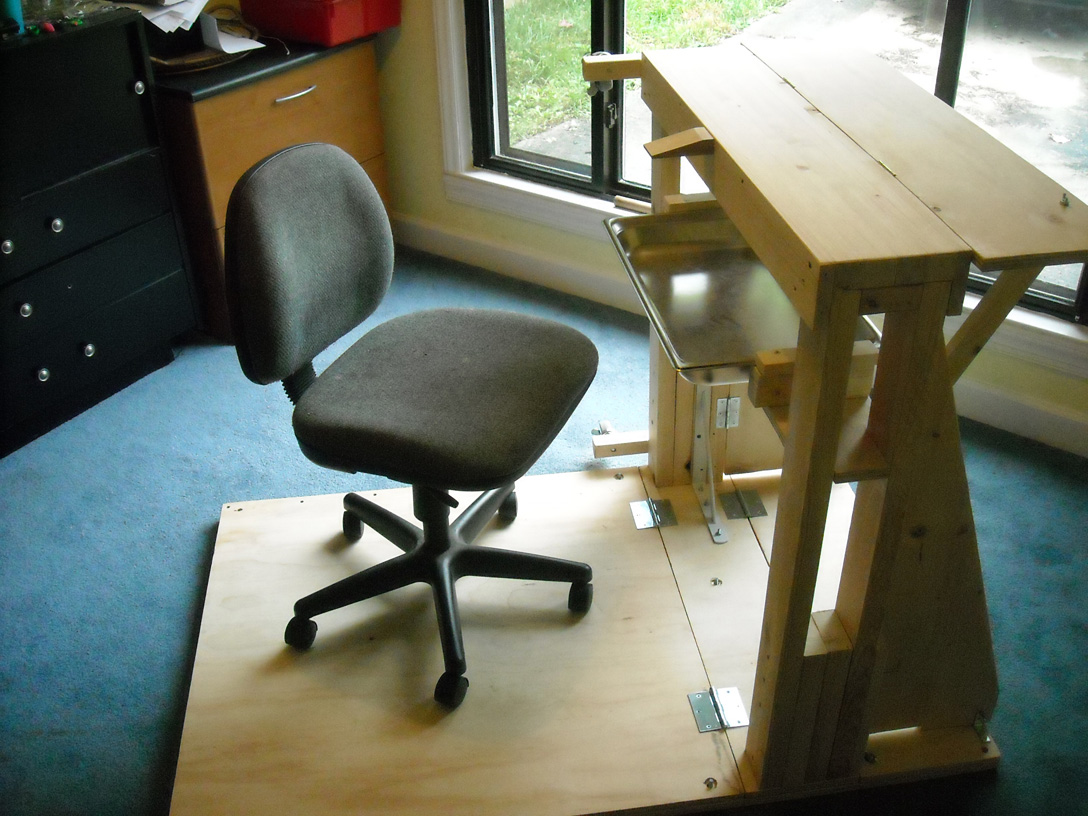 It seems just about every retail store I've worked for wanted me to pull a bench out onto the sales floor for a day of demon-strations.  I was happy to have the oppor-tunity to sit next to the large windows, rather than being stuck in the dungeon, but it was a hassle using the bench I was provided.   I usually had at my disposal a single jeweler's work bench with steel legs stored somewhere for this occasion, but I couldn't do any real work on that type of bench because they are top heavy and, since it's only a temporary situation, can't be secured to the floor.
Prodded by necessity, I bolted a sheet of plywood to the bottom of the bench.  Now when I sat at the bench, my body weight anchored it.  When I pushed against the bench, it didn't tip away from me.  I always thought this was a pretty impressive solution to the problem, but filed it away as a one off concept that I wouldn't use again.  That was about 18 years ago.
Then, last spring, I was touring my local community arts center and saw that the students were using plastic, collapsible dining tables as work benches.  How could someone work on such a surface?  It was wobbly at best.  I imagined myself sitting at that table and having my work disturbed because someone on the other end decided to forge or file.  Besides, the surface was way too low.  They didn't see anything they could do about it.  The small metals studio at the art center shared the space with other art classes, so dedicated workbenches were not feasible. I offered to make some better, stowable and portable benches for them if they'd cover the cost of materials and find some volunteers to help construct them.
Ultimately, the art center didn't need the benches.  They are renovating an old elementary school that will house a new performing and visual arts center.  It won't be ready for a couple of years, but they've decided that they won't need stowable benches once the dedicated metals studio is built.  Still, after working on the design and coming up with several things I could do with a portable bench, I decided to make one anyway.
Things were pretty slow in the shop with the early to mid 2009 economy in the tank and I didn't have as many creative outlets as usual.   So, I temporarily traded in my gravers, pliers, rotary tools and precious metals for a few wood working tools and some wood.  I approached the design of the workbench the way I would a jewelry project, though there were some added elements to consider.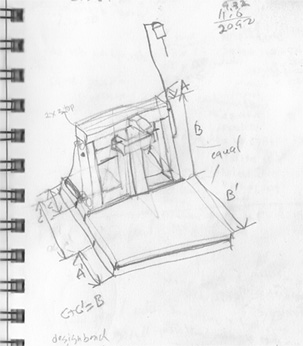 I wanted the bench to be somewhat light weight and yet stiff enough to withstand the forces a goldsmith would apply; I wanted it to be easy enough to make that someone with few carpentry tools, and even fewer skills, could attempt it.  I also wanted to keep the cost down.  Having never really worked in wood, I had a feeling that I would probably have to design and make more than one to get it right.  In order to minimize potential design flaws and to have a better idea of what materials I'd need, I decided, after sketching out a rough draft, to design the prototype in CAD.  This is something that I normally do in my jewelry work with most designs that aren't very simple fabrication.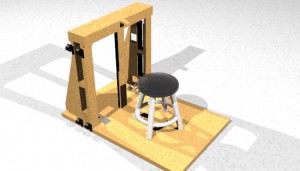 The very first mental glimpse of the bench I would make was simply a central beam that the user would position between their legs.  Supported by a brace from behind, the beam would resist the force that the user would place on it from filing, tightening a saw frame or setting a stone.  Ultimately I gave up on that design because it didn't allow for a catch drawer or a skin to catch filings, nor did it provide room to place tools or much in the way of work.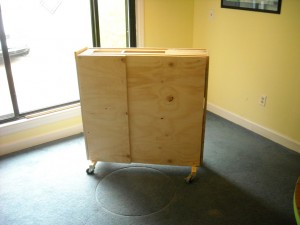 What I did design, once I put pencil to paper was a workbench with a more traditional top but still with the brace in the center.  It took a while for me to give up on the idea of a central brace.  Eventually, the brace came out and I made an exploded version of the bench to determine how much wood and hardware I'd need.  There were still details to suss out, but I decided to leave those until I had partially built the bench.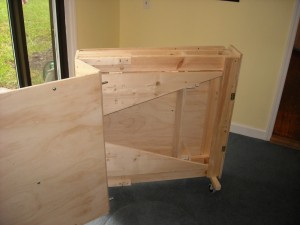 One aspect that I thought was important involved keeping the design simple enough that it could be made with very few tools.  I was able to achieve that.  The only electric tools I used was an electric drill (not even a cordless one), a jigsaw and a random orbit sander.  The bench hardware included screws, bolts and matching nuts, hinges, small "L" brackets, wing nuts, some washers and glue.  The catch drawer was purchased from a restaurant supply store and the bench pin was an extra that I had in the shop.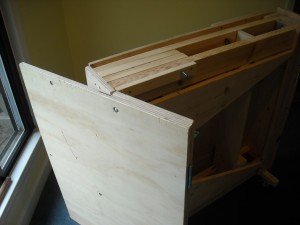 In it's stored position, the bench is 9 1/4 inches (23.5 cm) deep front to back on top and 14 3/4 inches (37.5 cm) at the wheel supports.  It stands 38 1/4 inches (97 cm) tall and 37 1/4 inches (95cm) wide.  In the stored position it sits on it's side.  The front and the back of the bench open up and swing around.  Once they are in their locked position, the unit is tipped over.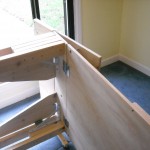 I've included some photos here to show how the front and back swing around and lock into place.  I hope it's clear enough.  I've actually shown it to people here at the shop and until I opened it up and showed them how it worked, they didn't quite understand the process.  I've been told it's very "transformer-like."  I think that's a good thing.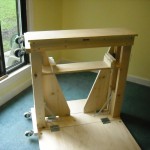 I did end up keeping the idea of a brace to steady the working top when filing and pushing.  Instead of it being behind a central beam, I made two braces and put them on opposing sides of the bench in the rear.  Once they are screwed down with wing nuts, the bench is very steady.  The braces aren't swung into place until the bench is tipped in it's upright position.
At this point I finally had to consider what to do about the filings drawer.  I thought I'd be able to find what I needed at a restaurant supply store in Raleigh, which is open to the public.  Once I found the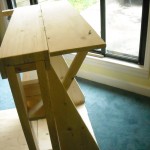 part I wanted it was just a matter of fitting it in the space available.
Lastly, I wanted to increase the depth of the bench by adding a folding top.  The top is bolted to the body of the bench once it's swung into place.
In total, I spent over $200 in materials and parts for the bench.  That said, the bench ended up having more options than I had originally intended.  It also exceeded the weight limit I wanted.  This is easily attributed to my lack of experience with wood.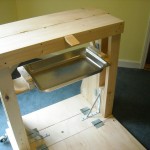 I've already started on the plans for the next model.  It WILL be less hefty.  It WILL cost less to make than this one, if for no other reason than I won't need as much material.  The new design won't be as open on the sides, but it won't need to be tipped over or stored on it's side.  I'm also going to avail myself of my neighbors wood working machinery.  I learned to envy his chop saw and a table saw.
If you're handy with tools, or know someone who is and would like to have the drawings for the new bench, let me know.  I'll be happy to send them to you once I've finished them and made the new bench from them.  This type of bench would be perfect for the apartment dweller, or anyone who doesn't have the room for a full blown bench, but doesn't want to work on the dining room table or in the bathroom.  If there's enough call for it, I'll make a short video of how the bench works.
Contact me if you're interested.  Subscribe to my blog or friend me on Facebook.  You can also become a fan of my studio, http://www.facebook.com/masterjeweler.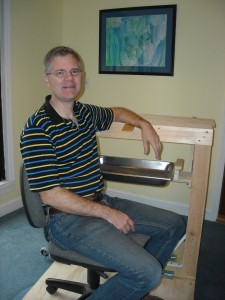 Latest posts by larryseiger (see all)