Wow! and thanks for the comments – people are really reading my blog!.
Since you liked the last pictures, I thought I post just a few more pictures. Next time I will try to talk about my adventures in wire wrap land, as that is part of the path that I have taken to get here and where I want to go. I promise that with time you will see the current work.
And now for some more pictures, A cornacopia of cabs!
Sorry for the one on the left being cut off but these two are Verisite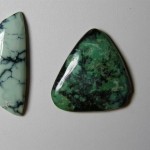 I don't know what this is actually called but it is a type of Chalcedony, if Obi-wan Don is correct.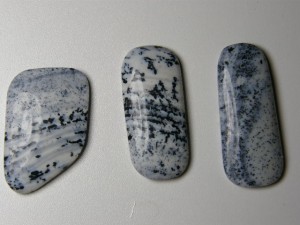 I picked up a rather nice, large slab of Moss (Plume) Agate. I made one, wire wrapped it and sent it a friend (picture to follow in another post. From the remaining I made these two and the next one called the Arrowhead.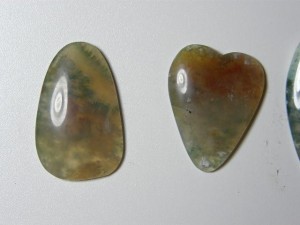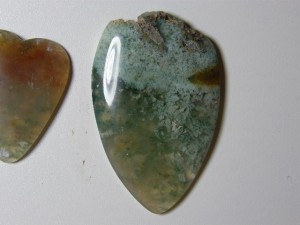 These two, again came from the same slab. They are made from banded agate with lots of very clear parts. The shape on the left is what I call a Clam Shell and the shape on the right is what I call Mezzaluna.  You will see these two shapes quite a bit!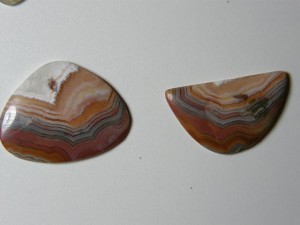 This is Silver Lake Onyx. It cuts like butter!
Because the material is a bit softer than agate, it is easy to work with.
I was able to bypass the first (80 grit) wheel, and the second grit wheel (120) where I did some quick shaping  and do most of the work on the 320! And hey, there is that clam shell shape again.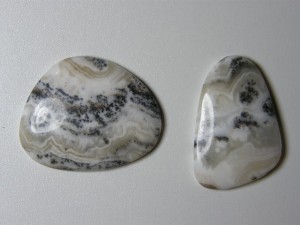 I have not mounted any of these YET. I plan on most of them being in pendants and a few of them being sold but at now I just have them on my table, where I love to look at them.
You will see more of my cab's in the wire wrap post but not all of my wire wrap pendants have cabs that I made, some were made by Obi-wan Don.
P.S. I don't know if I can do this here, but if you see a cab you like, drop me a line and if we can agree on a price, I just might sell it!!! ( I don't have a site yet were I can sell, but that too is for another post
Latest posts by laurie jane kern (see all)