My hubbie – known here after as the e-Man, has pointed out that I missed posting a few of my other cabs and some of the polished rocks I have sitting on my desk.
I call this "The Plinth" it is actually one of my first pieces that I polished on my flat lap.  This is a Agate from Mexico.  I made a small cut on one end, saw the pretty colors and that there was druzy quartz inside and I just could not slab it, I just wanted to see the orbs of pink. Thus I started to grind off the outer rind to reveal the inner beauty. I then made a slice on the bottom so it could stand on my desk, and another cut on the other side  – which can be seen in the second picture.
Here is the back side.
And finally…
The following are other cabs.
This is the Moss Agate, I mentioned in my prior posts. This has been sent over to Scotland, where Elisa is the proud owner.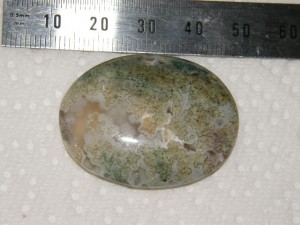 This cab is one of the first 4 that I made. Yes, that is a flat spot on the top. The material is Mariposite, which is a mineral that is a chromium-rich variety of mica, which imparts an attractive green color to the generally white dolomitic marble in which it is commonly found. It was named for Mariposa, California, though it can be found in several places in the Sierra Nevada mountains. I collected this material on one of our road trips, and YES, we did pick it up in Mariposa – there is a nice road cut that has loose material so we could just pick it up from the side of the road and not actually hack into the road cut.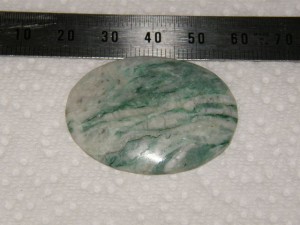 A tiny picture jasper.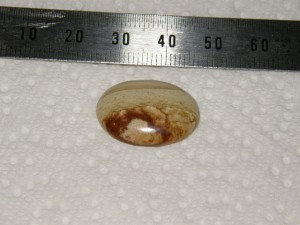 Jasper – I love these with the orbs!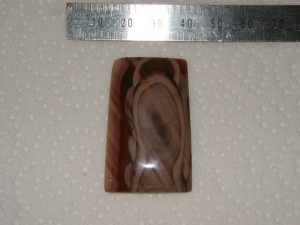 Crazy Lace Agate
Turatella (Fossil)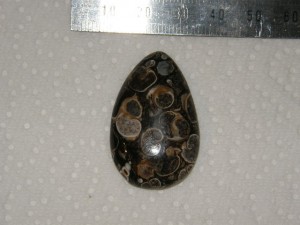 A larger Picture Jasper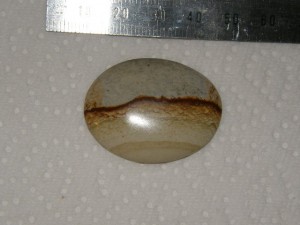 Sodalite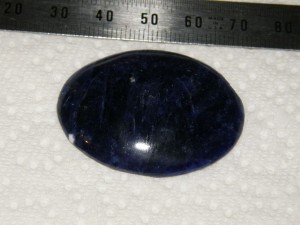 Crazy Lace Agate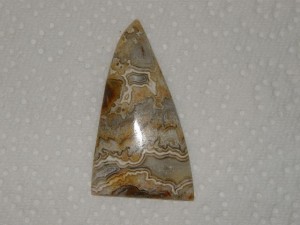 Latest posts by laurie jane kern (see all)