Part One was about Rocks making cabs
Part Two was about learning to wire wrap
So now, in Part Three I will tell you about my discovery of chains and my start of working in Silver
Again it was late 2008 and I had made a few wire wrap pendants and I went shopping for a chain. I have to admit that I only looked in a few local jewelry (i.e. mall) stores. I was not finding what I wanted but I eventually found a chain that would do. At this moment I was not even thinking of going down the path I am currently following.
My husband and I then went to the annual San Diego "Gem Diego". It was there that I saw a display of chains. Of course there was some chain maille items but there were other chains as well. And the person who had done the display was giving a demo of chain maille. I now know that it was Paul Kloppenborg.
I fell in love! My husband, said "go for it"
[Side Note 1: I have been into swords and armour from Japan and the Medieval period for a long time. I was a rather good fencer as well in my younger days.]
I did know that the Palomar Club, also had some silver classes. I checked into it and found that they would be starting class again after the first of the year, as it was now the holiday season. So while I waited I went online and ordered some pre-cut links and started to learn some basic chain maille weaves.
Fast forward through Turkey Day, Hanuka, Christmas, Kwanzaa, and New Years….and any other celebration I might have missed
In mid-January, the first silver class of the new year was announced. It was a basic class to learn soldering and we would make a simple bracelet with little wire hearts made from rings, with other circular rings connecting them. I was there! [Side Note 2: I spent two summers working as an welder but that was almost 30 years ago so I was a bit rusty with my torch skills, but it is like a bicycle, you never really forget]
Here is a picture of that bracelet.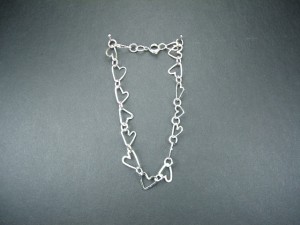 I have now made and either given them as presents or sold 5. I have taken the idea and made earrings and I have made a larger necklace/chain.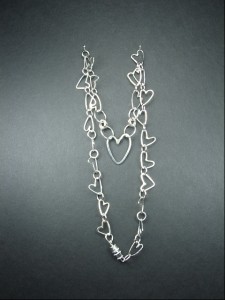 I am currently working my way through the book "Making Silver Chains"… by Glen F. Waszek.
Latest posts by laurie jane kern (see all)