I have been trying to finish a few projects so here is another flurry of pictures
This is my first silver mounted cab. There was a class down at the Palomar club in March, which ran for 4 weeks. We started off with the basics: Make a bezel, pickling, saw/cut the backing, soldering down the bezel to the back, filing to shape, adding a bale, mounting the stone and of course polishing.
I don't really know what type of agate/jasper this is but it was very hard to cut but despite that, it is now one of my favorites. I have a few extra pieces left, from the same slab so I can't decide to sell the cabs or maybe make a few more pendants and then sell them on.
.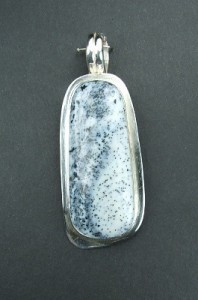 Because, I made my first pendant in 2 weeks, I had more than enough time to make this one next. The cab is Verisite that I bought at the San Diego show and cabbed.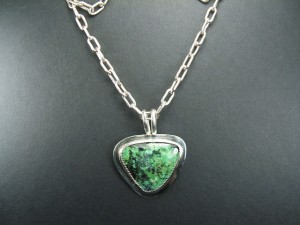 Oh – and I made the chain tooo! I finished this one at home over the weekend.
Now, my real goal was to mount a cab that finished when I bought it.  It was polished on all sides and had a flat top. I wanted to put the bezel on the top, and have the cab, hang down below it.   I traced the outer diameter of the flat top, made the bezel, cut the plate to just hang a bit over the bezel like a funny "top hat". Then I put a ring on the top so I could hang it from a chain.
I call this one "Mezzalluna".  It is on a fetter and link chain that I made as well.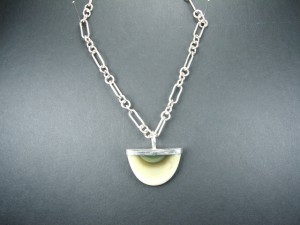 Latest posts by laurie jane kern (see all)