Last week, I started a 3 session class at the Palomar Gem and Mineral and Gem Club http://palomargem.legendearth.com/.  This class is focused on making a ring using a bezel set cab and double half round wire for the shank.  In this class we are not placing the cab and silver setting on top of the shank, but working it into the shank.
In the first class most of us completed our bezel and soldering it to the base plate (if there is another name for this, I don't know what it is, sorry).  The next step was to determine our ring size and cut the length for the shank. The actual length of the shank that is to be used is determined by taking the circumference of the ring size needed plus the thickness of the wire gauge then from this length you have to subtract the "length" or actual width of the silver setting for the cab as the setting becomes part of the shank.
But wait, we don't know what the setting width will be yet. Why? – Well we have soldered the bezel to the backing but we have not trimmed the backing to be flush with the bezel and that is because we are adding  some decoration. I am putting some silver balls and twisted wire/rope around the outside of my bezel. Once that is done, I can cut away the excess silver.
Below  is a picture of the staged work. Yes, the over achiever in me is making two rings at once.
So this Thursday I shall be soldering down the rope, balls and cutting
away the extra silver around the bezel.  More pictures later in the
week.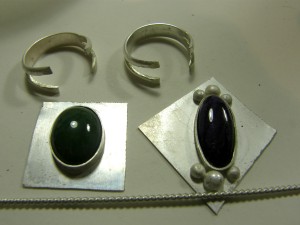 Latest posts by laurie jane kern (see all)