Thursday night was the second part of the ring class.
I was able to finish the first one which has the jade cab.
It is now proudly parked on my right hand.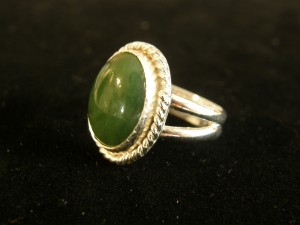 I hope to finish off the Sugalite this week, as I just took the ring out of the pickle pot – The balls and twisted wire are now soldered around the bezel.  The second ring is supposed to be for Eliza of Scotland though I am liking the mount and the Sugalite sooo much she might not get it!
Latest posts by laurie jane kern (see all)