This is the first project in the book Jewelry Making – Tips & Tricks, that I discussed in my last post.
The project is to make a ring from a piece of wire, not a wound link but a piece right off the spool or coil in the silver vault.
I cut four pieces of wire so I would be able to do a bit more practicing and see how consistant my work would be. You need a ring mandrel and a hammer for this, and also having a ring size measuring stick allowed me to measure the ring size before I hammered the 8 sides on each one, to see how the ring size grew.
Here is a picture of the result, after pickling and 4 days in the vibra-ora-torium!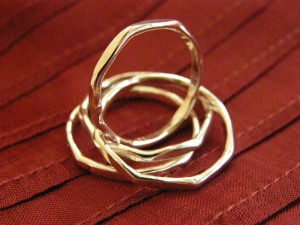 Latest posts by laurie jane kern (see all)