It has been a busy week, and I have only now had the time to take my projects out of the vibrator. I put them in last Sunday evening.
Yes, last Sunday I tackled the second project in the 'Workshop' book, which is to make an 'S' ring. This project builds upon and modifies the ring made in project #1.   Here is a picture of some of the 'S' rings I made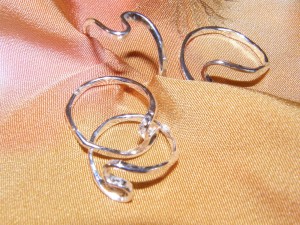 I then took this project further and decided, why not make them nest. So off I went and made more ring, of the same size, and just before I twisted the 's', I put then together with tape to hold them in position. After taping them together I put them on the ring mandrel and twisted. Here is the result.
But after that, I was looking at the book, and I noticed that at the end of project 1 there was a picture of a stone, in a bezel, mounted on the octo' ring. I scoured the book but this was not a project that was listed.  It is on page 40 in the lower right corner of the page, if you have the book. This ring was a small garnet cab and was just calling to me.
Well, knowing how to make a bezel and I had some small garnet cabs in my stash, I then pulled out more wire, made 4 more octo rings, then made the bezels cups with an open back so light can come through the stones, soldered the bezel cups to the rings, and set the stones. I did find I had picked a bezel wire that was just a bit too big, but proceeded with the setting, liking the rustic dimpled look the setting ended up with.
Finally, after almost 8 hours of work [making 's', double 's' and garnet rings] I had over 14 items! Into the polishing tumbler they went.  Here are the garnet rings. The other 3 will go to friends: Elisa of Scotland, Janda the Fair Maiden of Tran, and Jean of San Jacinto.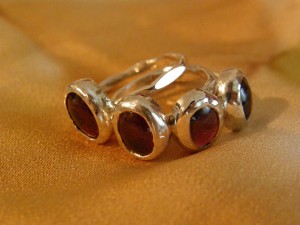 Latest posts by laurie jane kern (see all)