I started this over the weekend, then went out to dinner, had to go to work, and you know how it goes… Your day job just takes over.
BUT I went into work early today so I could get home early and finish this. You see on Sunday I had cut out the copper (the book says bronze, but copper is what I had), and rounded the ends, and there it sat.
So today, when I got home, I was able to put my NEW mushroom stake in the bench vise [reminder to me: Drill hole in work bench to hold stakes], pulled out my planishing hammer and went at it. Gosh it was fun [despite imagining I was whacking someone] with the balled end. Then when I was done making the dimples, I turned the hammer over, and went at the edges. All this hammering took a total of maybe 30 minutes.
Then on to annealing, quenching and over to the polishing wheel.
It polished up well, and then I had to shape it. I don't have a bracelet mandrel as I usually use the one at the club, so I found some different sized spray cans to use, and viola!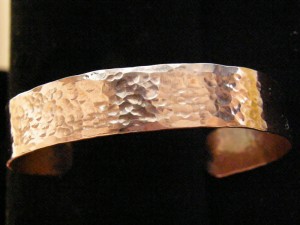 Latest posts by laurie jane kern (see all)