e piph a ny: Pronunciation [i-pif–uh-nee]
–noun, plural -nies.
1.
(

initial capital letter

) a Christian festival, observed on January 6, commemorating the manifestation of Christ to the gentiles in the persons of the Magi; Twelfth-day.
| | |
| --- | --- |
| 2. | an appearance or manifestation, esp. of a deity. |
| | |
| --- | --- |
| 3. | a sudden, intuitive perception of or insight into the reality or essential meaning of something, usually initiated by some simple, homely, or commonplace occurrence or experience. |
| | |
| --- | --- |
| 4. | a literary work or section of a work presenting, usually symbolically, such a moment of revelation and insight. |
If you pay attention to the third definition, I guess so, cause it's not January and I did not see any deities!!
Here is what happened:
I made my silver planished bangle/cuff yesterday (hold on, the pictures will be at the end). I cut out the 1/2″ by 6″ long silver sheet. I then filed the sides straight and rounded the ends. I pulled 2 small garnet cabs out of my stock and then made bezels for them. I soldered the bezels on and then I went at the silver with the planishing hammer. I really enjoyed it.
Who would have thought that hammering a piece of silver or copper would make me happy. And this time I was not imagining it was someone I worked with (heh-heh). Watching the dimples go into the metal, making sure I did not miss a spot, keeping it random – well that was went the first part of the joy came to me.
Oh – BTW, I decided to make a "reverse" cuff by placing the garnets on each end of the cuff (not in the middle) so the opening is worn to the outside – thus showing off the garnets.
After the planishing, I annealed, and placed the silver into the pickle pot.  This was all yesterday, Saturday.  Some where in there I made a comment to my husband that I had to get better at this cause I was really, really, I mean really having a good time.
And then around midnight I went to bed after a good hot shower and some DVD's from Elisa of Scotland. I then had some dreams – one was me making a hammered copper bowl and the other one was about being in a store buying Arts & Crafts and Art Nouveau style jewelry – I will come back to this, just hold on.
Early this morning I took – cut actually, the backs out of the silver where the garnets will go. This will let the light in. After that, it was to the buffing wheels and boy did it sparkle, and I finally set the two garnets, formed the shape and I was rather satisfied with myself.
Back to the epiphany ….. It was after I set the garnets and was all done that I realized this is what I enjoyed. I was also having ideas of how to make a pendant, earrings and another/different bracelet – all with the hammered texture and garnets – my mind has been racing all day.
I love both styles – Arts & Crafts and Nouveau ( I also like Deco too, Erte is my favorite and I even own a scupture!) but had I thought about this as "MY VOICE"? NO – and why hadn't I??? I have spent hours drooling over the designs of Tiffany, Charles Rennie Mackintosh, Frank Lloyd Wright – I am even wearing jewelry inspired by Mackintosh RIGHT NOW.
So, I think I have found my voice, my direction.
[addition @ 7am on Monday: I also see myself making cups, bowls and other home items, not just jewelry]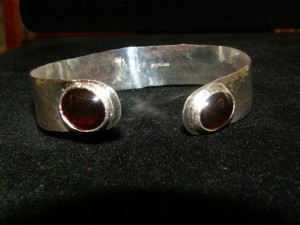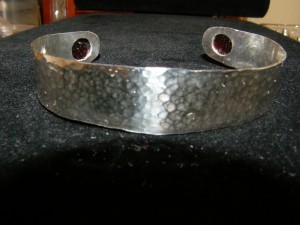 Latest posts by laurie jane kern (see all)