I took the rolling mill class at Jay Whaley Studio two weeks ago.
IT WAS FANTASTIC!
First we learned about alloying our own silver and gold. Jay even told us about other casting grains that can be used with fine silver to make "Sterling" but this other casting grain is not the standard copper alloy nor argentium alloy!  The reason we don't see it being sold as sheet and wire is the fact that it does not have a large following YET.
Next was casting and we all had the opportunity to use the other alloy but since I brought my own scrap, I decided to cast with what I had brought. I made two round ingot and a rectangular ingot.  Most of us in the workshop used silver but one woman brought scrap gold.
After we were done casting it was on to the rolling mill. Jay has several rolling mills but the BIG one is a top of the line with separate rollers for sheet and wire. I took one of the round ingots and made square wire. It was over 13″ long and about 12g. The wire I twisted and now wear as a bangle. Next, from the rectangular ingot made a long sheet .4″ wide by over 12″ long @ 18g. I then roller printed on it a fiber sheet. Over the past two weeks I have cut it into segments, filed the edges and corners round and it is now a pair of earrings and a bracelet.   (Pictures further down)
I also spoke to Jay about taking classes and we talked about my desire to learn to raise vessels. He told me that he can teach me quite a bit on my "quest" but not raising vessels! We discussed what I wanted to do with my craft and eventually I did decide to take a 9 week workshop class from him (we work on what I want to learn) which will get me part way there. I am going to focus on piercing, chasing and repousse techniques.  And maybe next summer I will go to "Adult" camp where I can spend a week learning to raise metal.
In the mean time, I have cast all of my scrap down to ingot – only to aggregate it so it is not all over the place. I now have 7+ troy ounces of silver waiting to be rolled and the best part is Obi-Wan Don has a rolling mill so until I get one [birthday present hint,  hint] he's only 3 miles away.
Here are two pictures – one of the ingots before the rolling mill and the next is the results after the rolling mill. The middle ingot is the same in both pictures.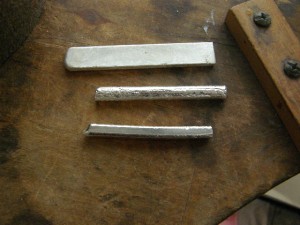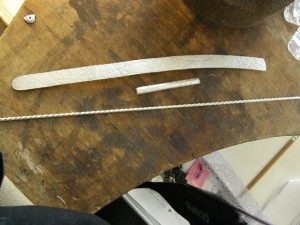 Latest posts by laurie jane kern (see all)