Several months ago, I bought a beautiful Bruneau Jasper that was cabbed and polished. It was not cheap but well worth the money.  I have a very old Lapidary journal that had an article about Bruneau jaspers and how mounting them in copper enhanced the colors – and looking at the one I had bought, next to some copper sheet really did make it pop.
I knew what I had to do!
First I make some copper viking knit 'chain' with coiled ends. You have to have a copper chain for a copper pendant.
Then I went looking for copper bezel wire. Well that was impossible to find so I had to make my own. I was already signed up for Jay's rolling mill class – no problem I would wait until I took it.
And I waited, and recovered from my shoulder surgery.
During this down time, I doodled some designs. And waited some more.
The rolling mill class was August 15 and a week later I was down at the club, using the small rolling mill to make my copper bezel.
During the soldering of the first bezel, I blew out the joint, my torch was too hot and the wire too thin (28 g). Back to the club to roll some more and I then got my bezel completed 26 gauge this time.
I had sawed and filed my backing in-between the bezel making. It was rectangular, it had rounded corners, I then planished it with a hammer (that was my next mistake). Because I had planished the outer area of the backing, it has stretched and warped and no matter how I sanded the bezel it would not lay on the backing with out a gap.
I thought I would be smart [i.e. STUPID] – I used some binding wire and got most of the edges to meet the backing and started to solder. WRONG, the solder just flowed out the gaps and all over the backing and then I again blew out the bezel.
This was yesterday, I was sooo angry at the copper and myself. I even considered selling the cab on and not deal with it at all. I spent the night watching stupid movies and knitting. This morning was another matter. I would just put it away for a few months, post some questions on the Orchid list and see what help I could get.
Did I put the cab away – NO! I pulled out more of the bezel wire and made a new one. I made a new backing and decided to planish it AFTER the bezel was soldered. It was 'laurie go slow, you can do this, you can beat it at it's own game'
I DID!!!!!!!!!!!! YES IN DEEDY I BEAT IT.
I have just finished setting the cab. I needs a bit of cleaning up but here it is.. TA DA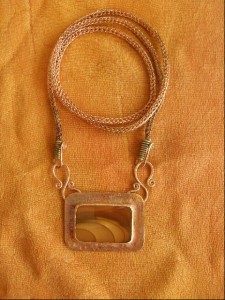 Terri – you asked for it and here it is on my dirty work bench (10:21 pm)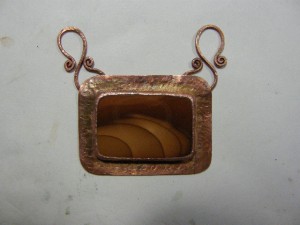 Latest posts by laurie jane kern (see all)