Spoonerisms: The terms applied to making a spoon. That's my definition!
After much searching and talking to a lot of people, I found someone to teach me metal smithing – real metal smithing where you are hammering and moving metal!!
Mary N, who is also a member of the Palomar Gem & Mineral Club told me to contact Deb Jemmott. Mary was taking a class from her at San Diego Community College. [Mary was in my Viking Knit class at the time] – So after a few emails and quite a bit of telephone tag, not only had I spoken to Deb but we set up an all day session. Deb also sent out a call for other students, and Mary signed up too. So, yesterday we had our class, focusing on forming, forging and sinking!
OH MY GOD, IT WAS SO MUCH FUN! We arrived at 10 am and for the next 6 hours we learned how to properly select the working height, hold the hammer and then we proceeded to hammer on aluminum (as it never work hardens thus no annealing required) and Copper. We formed, dapped, annealed, Bouged, planished, and sunk metal using cross pein hammers, sinking hammers, and planishing hammers.
I was able to make a tiny – I mean small bowl with a rim and from an oval blank as spoon bowl (pictures below). Mary worked on a bowl and then started a 'oak' leaf bowl/dish [Mary let me know if I got it correct] which I think she is going to continue in the class at the community college.
After our session, I met the Janda, the Fair Maiden of Tran at our favorite Thai restaurant in San Marcos as it was only anther 10 minute drive from Deb's house. We had yummy Crab Cake Panang for dinner and caught up on lots of gossip. I was home by 7:30 pm and then had to tell everything to my husband.
It was off to bet at midnight, tired and very happy.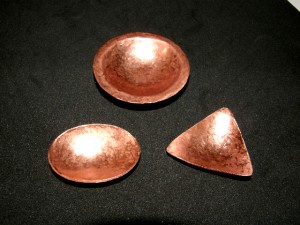 Latest posts by laurie jane kern (see all)