My backordered hammers arrived on Friday so I decided that Sunday would be the time to play and whale away on some copper.
So after cutting out a 4″ disc of 18g copper; my 5 hammers, the forming stakes, copper disc and I headed off to the garage at 11:00 am [Elisa says this sounds like the intro to a Roald Dahl's Tales of the Unexpected story…]
Here are the hammers and copper on the sandbag in the garage.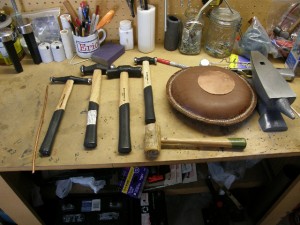 I also had a small 2″ disc with me which I decided would be another small bowl with a rim, similar to the one I made at Deb's 3 weeks ago.
After annealing, I then proceeded to start sinking and making quite a bit of noise – What Fun!  I don't have all the forming stakes I would like, so I used the punches from the dapping block to assist in making the small bowl. To get me at the correct height, I have to stand on a large block of wood that is left over from our patio cover! [Don't laugh! but it works, and yes this is what the Aspiring Silversmith looks like with bed-head hair.]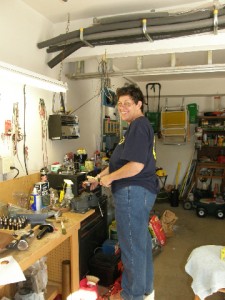 This next picture is of the original bowl and the new one without the rim – yet. Also notice the start of a patina on the original bowl.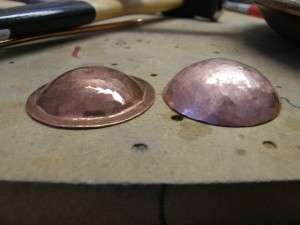 To make the large bowl, I used my mushroom stake – the curve on this is rather shallow but I think the bowl ended up with a really nice shape. Deb said that I hammered too close to the edge, which is true but the disc did not have a clean edge to begin with and I now think it looks like the edge on a burl-wood bowl
And finally, the two finished bowls at about 4:00 PM.  The large bowl ended up approximately 3.5″ in diameter and a tad over 1.5″ heigh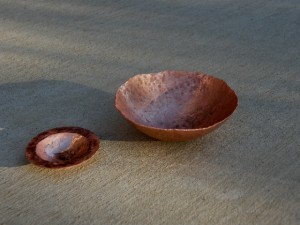 Latest posts by laurie jane kern (see all)