I spent yesterday in Pasadena at Farrin O'Connor taking a class on Fold Forming and using a hydraulic press. The class was taught by Carl and you can see his work here to get an idea of what we were making.
I decided that my piece would use copper for the majority of the piece that way it would look ancient – that and the fact that the amount of silver sheet to make the piece would cost a lot if anything went wrong!
We started off texturing our sheets, then annealing them. Here are mine with a pit of flame patina.
After the annealing we learned to make a T-Fold you do this by folding the larger sheet over a wood dowel and after removing the down, then flattening the pocket and fold the long leaves back on themselves.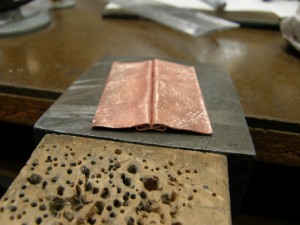 We then took a small strip of patterned metal and slid it into the T-Pocket, this is so after the hyro-press, the fold will open up and reveal the other material. Here is the piece just before I put it in to the press.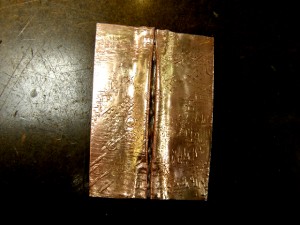 I chose a rectangular die that had a slight curve to each side of the square. Because of the fold and the inner strip, we had to press the item 3 times, with another round of  annealing before the final press. This is the result. I also pressed a single sheet for the backing. See how with the deforming, the pressure spreads open the gap and pushed out the inserted piece.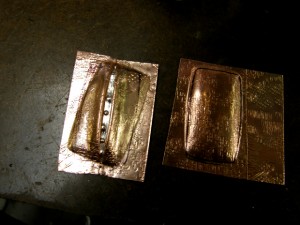 I still have to assemble the halves using some micro-bolts and add a bale.  Overall it reminds me of an ancient medallion of office from either China or Japan – where they had some very odd ones.
And here is my finished piece @4:15 pm Sunday night – this entire piece was made without any solder too.
Now, for that bit of silver wire at the top between the micro-bolts for the bale… I figured if this is MY found object.. someone might have found it before me. With a missing bolt they might have used a small twist of wire to hold the top together. So that is what I did. (I actually had a problem with a bolt and it sheared off). For the bale, I stressed some silver tubing then took some wire and balled the ends and hammered them flat and also hammered various parts of the wire too. I then drilled the holes in the flanges and twisted the wires. I bent the wires around the tubing and just pinched the wires on the underside thus with the flanged edges of the tub, the wires won't come off.
I am now going to relax and watch Iron Chef. I just can't figure out why this show is about cooking. Wouldn't a show named Iron Chef be about some one who makes Iron????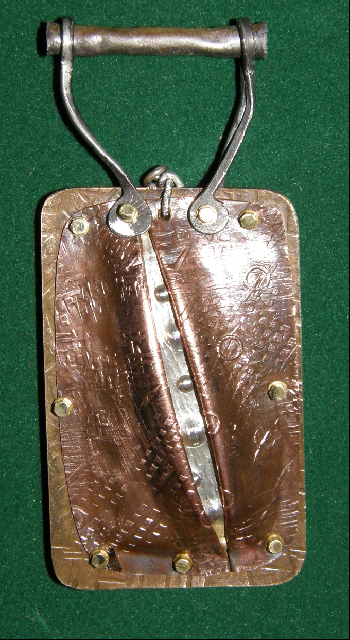 Latest posts by laurie jane kern (see all)