I have spent the day walking around half asleep as it was a cold windy and today it is pouring down rain.
Why am I sooooo tired? I was in a two day Chasing and Repousse with Nancy Megan Corwin which was held at the Jay Whaley Studio in San Diego. And let me tell you, being tired today was a very small price to pay for the experience.
Where do I begin to tell you what was covered – EVERYTHING
Where do I begin to tell you what I learned – A LOT
Where do I begin to tell you about the fellow students – SUCH A WONDERFUL GROUP OF PEOPLE
Nancy has such a reputation that 3 students flew in from out of town just for the class. They came from Reno Nevada, Chicago (Area) Illinois, and Oberlin, Oh-oh-Ohio.  Nany brought copies of her book and many of the items shown in the pictures. We all just wanted to run away with them.
So, lets get started…
Just a fraction of the tools Nancy brought.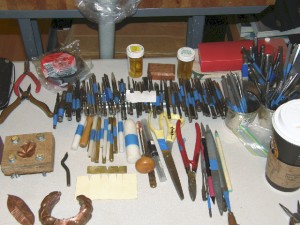 In the pot and marked with the lining has been completed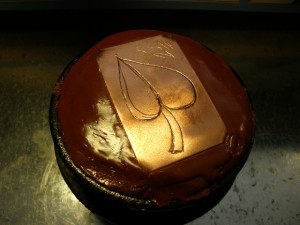 In the pitch pot – backside up for doing repousse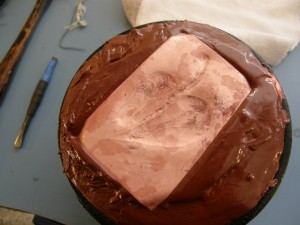 Turned and ready for chasing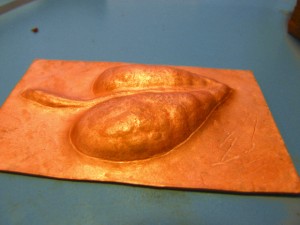 Nancy showing us how to undercut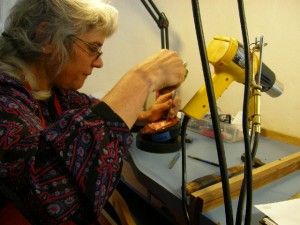 My finished piece!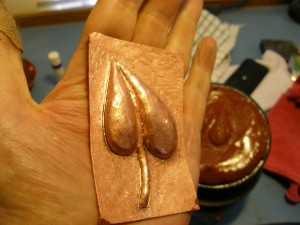 For additional pictures look at this flickr photo stream from fellow student Elizabeth (how cold is it in Ohio today?)
Latest posts by laurie jane kern (see all)