This is it everyone, it is already 2010 in some places and in about 8 hours, 2009 will slip quietly by – into the past, here in Southern California.
I have spent the past two days working on a copper tray/dish.  It is for Elisa of Scotland who asked for THREE copper bowls to put her bling into.
FYI, I am the maker [most] of said bling. Over the past year, as I was learning to solder silver by making chains, pendants and rings, Elisa would alway ask for a copy – that and a few things she also wanted but I had not made for myself. Really, she was challenging me to go outside my safe zone.
Once I had mastered the art of sinking a small bowl out of  a copper disk, there was the request: "Could I have three wee copper bowls to put my bling into?" [again use your bad Gallic brogue here]. After some more discussion we decided on a small one for the earrings, a medium sized one for the rings and chain bracelets and a tray for the cuff bracelets and larger items.
The small bow which is approximately 2″ in diameter and about an 1.5″ deep and the medium sized bowl of 3″ in diameter and about 2″ deep were sent off at the beginning of the month.
The tray dish was another matter. I had just learned about raising and could not decide if I should sink the tray or raise it. Then my T-Stake arrived yesterday. I had to do it – the tray had to be raised. I drew out my oval, cut my copper and drew the line where the bottom would turn into the sides.
Into the garage I went at 6 pm with my hammers, stake and hope. I needed hope because my side wall was only going to be about 1″ high and that's not much to work with.  I got one round done, annealed the copper and put into the pickle for the night.
At 11 am this morning, I got my hammers, stake, cleaned copper and went back into the garage. After two rounds, making a total of three, I knew it was done.  I planished it and took it upstairs for the final trim and cleaning. It is now 5:00 pm.
It is now done and I am so proud. I DID IT and it did not end up in the scrap bin YIPPPEEEE
Yes, I know there are chatter marks on the inside edge from the stake and my hammers but HEY, this is only the second thing I have raised.
Here is a picture. And to see more, follow this link to Kernology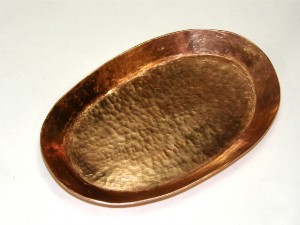 Latest posts by laurie jane kern (see all)