Understanding Turquoise
Preamble
This blog is to illustrate the beauty of Turquoise and repair the damage to Turquoise reputation as a gemstone.  The damage is a consequence of indiscriminate use of Turquoise as the name for anything remotely bluish.  Even if the blue color is completely absent, it still does not stop the gemological pimps to keep prostituting the name of Turquoise.  Regretfully, the science does provide the cover for such a behavior.  I can excuse geologists, but gemologists should know better.  While every gem is a mineral ( with some exceptions like coral, pearl, ,,,), only a minute fraction of one percent of minerals are gems.  This is true of Turquoise as it is true of any other gem specimens which have very many geological cousins, but very lonely in the world of gems.
Name Origin
Turquoise is french word which translates as turkish.  That tells us right away that gem became known in Western Europe via trade routes thru Turkey.  The primary source of Turquoise in the Ancient world were Egypt and Persia (Iran).  The best Turquoise came from Persia where the gem is called phyruza, meaning victorious.  This explains why Turquoise is the gem of choice to decorate handles of daggers, swords, and other edged weapons.  In Russia, gem is called biruza, which is phonetical equivalent of persian name, and we can conclude that Turquoise was exported to Russia directly from Persia.  Pliny the Elder called Turquoise kallalith, which means beautiful stone.
Turquoise Composition and Formation.
Turquoise is opaque, cryptocrystalline aggregate, but it does exist in crystal form.  Crystals are tiny.  The largest specimens rarely exceeds 3 millimetters in size, but they give us an indication of the real color of Turquoise.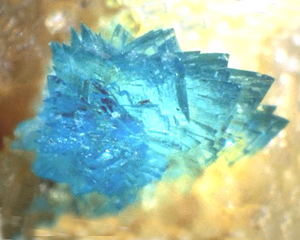 As you can see, there is no green, no yellow, but pure blue of equatorial sky.  If only crystals existed in size suitable for faceting, the gem would rival in beauty to the finest of Aquamarines.  Alas, one could dream.
When Turquoise is in cryptocrystalline form, a some of the beauty is lost, but in skilled hands the results are nothing to sneeze at.  Take a look at image below: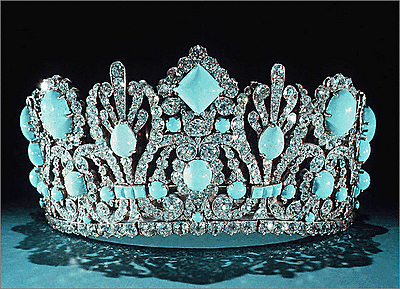 Absolutely spectacular.  And again, I do not see any green or yellow, nor do I see any matrix.  That is exactly how it should be.  Let's understand why.
Turquoise chemical formula is Cu Al6 [PO4]4 (OH)8 * 4H2O.  Here is another mineral Chalcosiderate, whose formula is Cu Fe6 [PO4]4 (OH)8 * 4H2O.  As you can see the only difference is that 6 atoms of Aluminum(Al) in the first formula are replace by 6 atoms of Iron(Fe) in the second.  In nature these two minerals form an isomorphic row, Turquoise and Chalcosiderate been end members.  The row is formed by substituting atoms of Aluminum with atoms of Iron in different amounts.  There are intermediate members like Rashleighite, Alumochalcosiderite, and others.
If instead of Aluminum(Al) replacement with Iron(Fe), Copper(Cu) is replaced with Zinc(Zn); another isomorphic row is formed Turquoise – Faustite, whose formula is Zn Al6 [PO4]4 (OH)8 * 4H2O.
Presence of Iron in Turquoise is manifested by Green hue, and presence of Zinc is indicated by Yellow.  Presence of Chromium and Vanadium can make Green particularly vivid, but is it a Turquoise?  May be in mineralogical terms; No if gem is defined as "mineral which is beautiful, durable, and rare".  It is the purity of chemical formula which defines precious Turquoise.  Of course, the formula is a theoretical ideal.  In nature pure Turquoise does not exist.  There are always some admixtures present.  However, the quantity of such admixtures should be small, and their presence should not affect the color.
All right, you may say,  so as long as Turquoise chemically pure( with qualifications ) it is precious Turquoise?  Not really, chemical purity is not enough.  Let's take a look at Turquoise formation.
Turquoise is a product of low temperature hydrothermal processes.  There are several morphological types of deposits, but only one particular type – nodular deposit, which produces precious turquoise.  Imagine super-saturated solution containing all the chemicals necessary to form turquoise molecule.
The solution is streaming through the cracks in a rock until it finds an opening.  At the opening, solution begins to cool off and chemicals begin to crystallize forming turquoise nodules.  Some of the nodules can reach 4 inches in size, or even more, but with increased size, the quality decreases.  The reason been is that in outer zones of a nodule, Turquoise is partially replaced with clay minerals.  Such Turquoise is soft and have chalky texture.  It looses color when exposed to sunlight and can be only used in jewellery if stabilized.  Nature plays a very rotten game.  After all the hurdles standing in a way of creation precious Turquoise, at the very last moment, nature pulls the rag from under us.  Only inner core of nodules contains what we are looking for, precious Turquoise.
Sometime, Nature throws us a bone, and instead of clay minerals, Turquoise is partially replaced by quarts and even opal.  Such Turquoise is hard and durable, cut en cabochon it will display translucency at the edges, and we can tell it apart from precious Turquoise by presence of white spots and light discolorations.  It is a very valuable material, makes great Turquoise beads, but it is not precious Turquoise.  However, such Turquoise sells at very high prices nevertheless.
What about spider web Turquoise, veinlets, and other varieties of intricately patterned Turquoise?
Such Turquoise is formed when super-saturated solution cannot find an opening.  It keep circulating inside the rock until temperature drops and Turquoise begin to crystallize inside the rock, filling up whatever crevices it could find.  This type of formation is more common than nodular and most of Turquoise on the market comes from such deposits.  It is called matrix turquoise and as a rule, it is not used in high-end jewellery.  However, there are always some exceptions.
Turquoise and Politics
Well, you would say.  Why then so many gemological authorities define Turquoise as gem material which can be blue, green, yellow, or any color in between?  My answer is that such question should be addressed to them.  Who can tell the reasons why people do things?  I definitely cannot, but I do have a theory.
May, 1887.  The greatest auction of all times held in the Ministry of Finance in Paris.  As the final step of disposing shackles of Monarchy, French Republic selling Crown Jewels.  Tiffany & Co is one of the most active participants in the auction.  They alone responsible for 1/3 of all the jewels purchased at this auction.  To everybody's surprise, Tiffany did not even offered a bid on any of the pieces of Turquoise Parure of Duchess of Angouleme.  Turquoise blue was already Tiffany's signature color, and nobody could understand such a strange behavior.  The answer to the mystery can be distilled from the fact that Kunz, who was the head of Tiffany gemological department at a time, was presiding over Tiffany delegation at the auction.  Kunz is rumored had sad that if Tiffany is to buy Turquoise, it is not going to come from Nishapur ( Iran ), but from New Mexico ( USA ).
This incident can offer an insight into thinking of gemological authorities on the subject of Turquoise.
Latest posts by leonidsurpin (see all)