My mother-in-law's most important jewelry status statement was her 1 ct diamond ring.  The stone was mounted in a fairly standard 1950's white gold prong setting.  I was pleased to inherit this ring.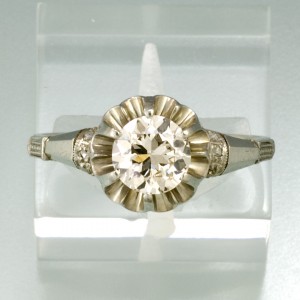 Several years later two of the prongs began snagging my clothes.  The lateral photo shows noticeable air between the prong and the girdle of the diamond.  After 60 years of use it was time to reset the stone.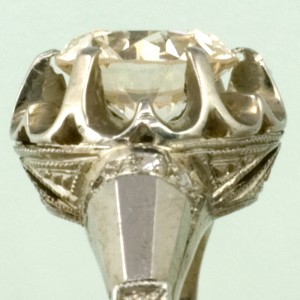 It is my stuff so I saw off two of the triangular shaped prongs to dismount the diamond.  Then I start to check out the stone:  Cut – old style with truncated culet; Color – a little yellow, probably G; Purity – clean, VVS; Weight – 75 pts.  Holy Cow!  It is not a 1 ct diamond.  What happened to the missing 25 points?
In 60 years many things could have happened to this ring including that, maybe, the diamond had never been a full carat.  Certainly I was disappointed not to have a 1 ct diamond but this had been a gift and much appreciated.  The situation would have been very different if this had been a client's ring.
Part of my job is to take in used jewelry for repairs, remodeling or remounting.  Sometimes the work is carried out leaving the stone in place.  Sometimes the stone needs to be removed from its mount and later reset.  There is a lot of trust from all parties involved.
In the end what happened is that I remounted the diamond, my diamond, just like I wanted it.  I made a compression formed 18K yellow gold band with a filed 18K white gold prong setting.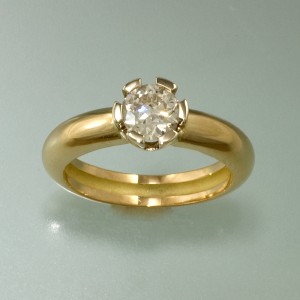 Everyone that sees the ring thinks that the diamond is enormous.  I think that is probably a bi-color – G and F.  Kept clean, it seems to be a drop of sparkling water.
Latest posts by loiskmartens (see all)