It's not easy finding new tricks in an art that's been practiced for millennia. But master enamelist Barbara Minor did, by trial and error in her Louisiana studio. Three new exciting ways to create texture and apply color are now a hallmark of her work:  using silver foil 'spitballs,' inlaying already-fired shards of enamel, and a technique she calls 'punch-through,' as seen below:
Barbara's workshop, "Experimental Enameled Surfaces: Expanding Possibilities," will also include the use of seed beads, copper or silver screening, PMC slip bonded to etched copper, dry screening and stenciling, embossed foil, luster decal application, and sgraffito. There are still seats available for the class, July 7 – 11.
She promises a fast-paced experience. Because of the wealth of information, Barbara warns that students may not go home with too many finished pieces, but will certainly leave with a larger repertoire of enameling skills. After that, she said, "It's up to them to understand how to use that to express their own voice—and be bold enough to use it."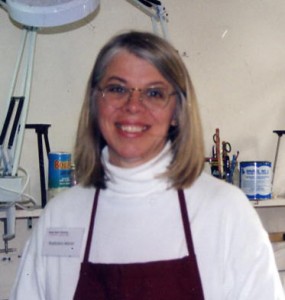 Barbara, a Chicago native, has made her home in Baton Rouge, Louisiana since 1991. She is known for her one-of-a-kind and limited edition jewelry and functional objects, some of which she co-creates with her husband of 22 years, the jeweler Christopher Hentz. Some of their work can be seen at http://www.barbaraminor.com.
Enameling has an ancient history. There is evidence that the practice of melting colored glass onto metal has been around since at least the time of the Egyptian dynasties. Since then, innovative approaches throughout the ages have made enameling one of the most loved and enduring processes in jewelry-making.
"It's a luscious surface, it doesn't fade, and the possibilities (in enameling) can keep one occupied for years," Barbara said. Every so often she thinks of taking a different direction in her jewelry-making, but since all her ideas have color, "Enamel is the most logical and now the easiest thing for me, and the most exciting. It really captivates my interest."
One method she will teach is her own take on 'ginbari,' a procedure created in Japan which uses a foil design made by an embossing plate. There are several ways to achieve the relief image, including embossing in the hydraulic press, bench vise, or the rolling mill. A base coat is fired into place, then more color is added on top of that. It brings to mind the look of cloisonné, but instead of wire the lines are made of silver foil.
Some of her most breathtaking results come from adding enamel shards. The technique is accomplished by breaking off layers of already-fired enamel, and placing it onto a new surface. "What you end up getting is a very organic, stone-like looking surface, that is a little painstaking and unpredictable to some extent," she said. "But you can do some things to control the results. You have to watch closely what's happening. It's one of those things that does have a life of its own."
She came to develop the techniques simply by using what was lying around her studio. "It's how my mind works," she says. "One thing leads to another."
Another trick she employs is melting glass seed beads for spots of color. She's not the only who does this, but it is a style that is not too widely-known. Barbara does all her firing in a kiln.
The workshop will appeal to experienced as well as beginning enamelists.  "I do like to encourage the students to get the experience with variety of different things, and having that to take home. It allows for a good repertoire," she said.
See the Metalwerx website for more Summer With The Masters workshops, or to register online for Barbara Minor's class.
(By Yleana Martinez)
Latest posts by Metalwerx (see all)