Christine Dhein returns to Metalwerx Aug. 12-15 for 'Surface Embellishments and Riveting Techniques,' a class she loves to teach because it offers students opportunities for both learning and experimentation. She provides instruction on how to achieve a wide variety of surface textures and encourages students to combine the techniques to create unique results. Students begin by making a "texture sampler" on copper to keep for a reference. Using this as the foundation for a piece of jewelry, students learn to combine metal with non-traditional materials to make a pendant using basic and advance cold joining techniques. In addition, students learn the step-by-step process for making a pair of keum-boo earrings.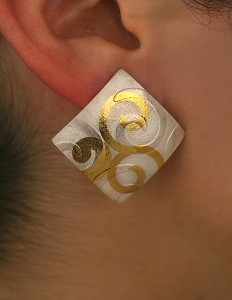 Christine is assistant director at the Revere Academy of Jewelry Arts in San Francisco, where she teaches fabrication and keum-boo. Her passion for metalsmithing goes beyond the studio bench to 'growing' the Green Jewelry movement by encouraging more environmentally-conscious methods for jewelry-making.
She has always been an advocate for environmentally friendly practices, and has been using recycled materials in her jewelry for over a decade. However, she really started to think seriously about the environmental impact of the precious materials used in jewelry making when she read "The Price of Gold," by Susan Kingsley in Metalsmith magazine (2004). This article dramatically illustrated the environmental consequences of gold mining: The use of toxic chemicals such as cyanide and mercury for extraction; the incredible tonnage of contaminated waste—one gold band leaves behind 20 tons of waste rock, heavily laced with sulfides; the devastation of ecosystems, wilderness areas, and habitats of indigenous populations when mining corporations move in; and more.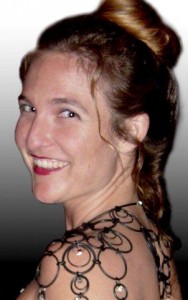 Since then, much press has appeared that has had an effect on the case for ethical diamond and gold mining. At least eight major US suppliers now offer recycled gold, and 70 national jewelry retailers have pledged to support the "No Dirty Gold" campaign, which demands that mining companies meet basic social and environmental standards.
Like many other jewelers, Christine found the arguments compelling, but wondered how these facts could be brought home to the small-scale studio artist. Because she was motivated to work for change in the jewelry industry and wanted to do her part to make a difference, she founded Green Jewelry News, an electronic newsletter designed to educate, raise awareness, and promote the use of sustainable fair trade and recycled materials as well as eco-friendly studio practices. Her initial readership in 2008 was 200 subscribers, and in less than two years, the number has grown to over 1450.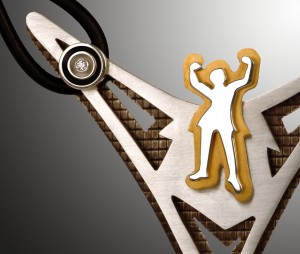 "It is hard to find information about sustainable studio practices. It can be overwhelming to even figure out where to start. I thought the best way I could help other jewelers was by researching simple and effective things they can do to make a difference, and to make the information readily available," she said. The monthly newsletter costs nothing to subscribe, and people interested in receiving it can send an e-mail to her at christinedhein@yahoo.com.
Because there are so many organizations promoting change in the mining industry, Christine focuses on what can be done on an individual level.  "My goal with the newsletter is to educate people about the issues involved, as well as sustainable practices, both in the studio and in purchasing materials. I hope to motivate jewelers to make changes," she said.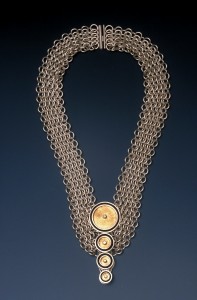 She brings her philosophy into the classroom. For example, assembling pieces with cold connections such as rivets avoids soldering, which involves the release of gases, fuel consumption, and acids in the pickling process. The riveting techniques included in the four-day workshop include basic, ball, and tube riveting. Students will also make jigs and spacers, and learn accurate layout, drilling, and counter-sinking.
Christine finds these "smaller issues" to be a concern for studio jewelers. "Information about environmentally friendly studio practices is hard to find," she said. "That's why I like to include tips that people can use on a daily basis."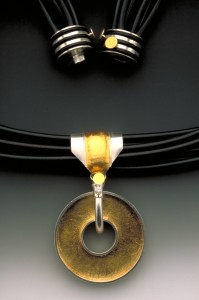 Christine's work can be seen at www.christinedhein.com and at http://www.flickr.com/photos/christinedhein/.  More information about the green jewelry movement can be found at www.ethicalmetalsmiths.org; www.earthworksaction.org,  www.nodirtygold.org, and www.communitymining.org, the website for the Alliance for Responsible Mining.
There are still seats available for Christine's class. Contact Metalwerx at 781-891-3854 to sign up!
(By Yleana Martinez)
Latest posts by Metalwerx (see all)