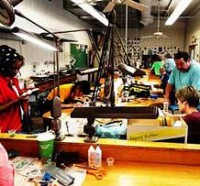 SMM's workshops for last year were a great success. The new metalsmithing, jewelry making and silversmithing workshops for 2014 are being planned. We have a great line-up of instructors. The details will be posted on the SMM website when they are finalized.  If you want to be "in the loop," be sure to join now.  All SMM membership dues ($30 for regular membership,) are collected from all members in January.
Come to the first SMM meeting of the new year January 14 2014.  We will meet at 12 noon at the main Art and Design Building at Maryville University in St. Louis. All are welcome. Check the SMM website for upcoming events.
E-mail us: midwest.metalsmiths@gmail.com
The Society for Midwest Metalsmiths was established in 1995 as a non-profit organization. SMM's mission is to promote, develop, educate and encourage individuals who are interested in metalsmithing and jewelry. The organization provides a newsletter, workshops, lectures, an online chat group, a free online members gallery, juried exhibitions and a friendly exchange of ideas for its members. Membership is open to all, without regard to race, religion, sex, or national origin.
Latest posts by midwestmetalsmiths (see all)