Goethe said that when one is committed to an enterprise, doors open where you did not think there would be doors, and where there would not be doors for someone else.
I am com
mitted to a new life, as we are all are, I guess, every day—the difference is that I realize it, know it with absolute certainty. My life is not going to, cannot, just go on as it is. The question is, what do I do to steer it in a direction that holds the promise of fulfillment? I won't put it more definitely than that. One thing is clear—we don't control our own lives. Sometimes we have the illusion that things are predictable, nailed down, under control, but that illusion can be shattered in a blink. If you are honest, you know this is true.
For months now, I have struggled with the question, not, what is the next stage in my life going to be, but, how do I begin to determine what the next stage will be? The one thing that must happen is that I must return to an artist's life, one way or another. Also, I must choose a new place to live, as I complete my divorce and sell the house I have lived in most of the time since 1983.
My oldest daughter urges me to "manifest" what I desire in life. I take this to mean, picture myself where I want to be without regard to practicality or doubt: dream it to make it real. At the same time, I have come across t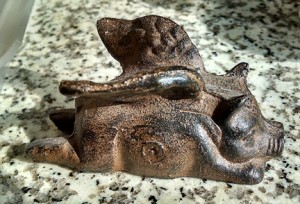 he work of Brene' Brown, whose TED talk on vulnerability and book Daring Greatly are reinforcement for the way I am already trying to go. Add to that Saya Hillman's "Life of Yes", and it all pushes for the idea of putting myself out there, taking chances, making leaps of faith, and believing in the outcome. Terrifying. But really, what choice is there? I have never had any reason to suppose that I can hunker down and do whatever I am currently doing if what I want is something different.
But how, exactly, does one set all this in motion?
As I was writing an email to my 4 kids, a year ago, I suddenly remembered a long-abandoned dream of one day buying a camper and heading off around the US. In the original dream, I was traveling with my husband, and I gave it up because I came to realize he was never going to do that.
Now, I imagine it a bit differently. And it just might work.
I see myself buying a small RV and building in a jewelry bench (who needs a sofa? Visitors can sit outside or at the dinette) or maybe just bringing my painting things. Putting everything in a storage facility and heading out, teaching/making/se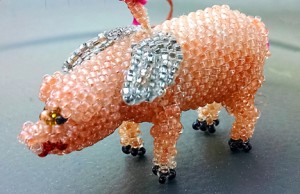 lling around the country until I find the place I never want to leave. I can see parts of that in my mind's eye already—a cozy house in a community that supports art and artists, surrounded by natural beauty, bathed in natural light. There is a smallish white-walled room I use as a gallery, displaying my jewelry, pottery, paintings and sculptures to be seen and bought. I am working in my adjacent studio but emerge to greet anyone who comes through the door. There is a vegetable garden, and many flowers. I can live there comfortably on my limited income, serene and happy.
I could use your help.
I don't know yet exactly when this odyssey will begin, but ideally I will sell the house and then head str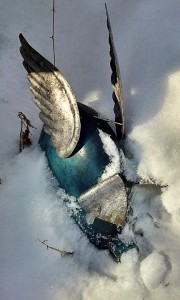 aight out. This is likely to be in the very near future, probably by June. If you have any experience with anything like any part of this; if you wish to invite me to check out your area, or an area you know of; if you would like to have me come and teach, speak, or show work; or you wish to host me or encourage me in some other way—I want to hear from you. I am, with this writing, beginning a journal of this adventure, as a record, as an inspiration, possibly, to others, and to build momentum and courage to undertake a very scary leap of faith. I am 64, and I'm here to say it is never too late to try to fulfill your dreams. My mascot is the winged pig. I can see one painted on the side of my camper. Maybe it's true what they always say, that pigs can't fly, but if they don't try, they sure as heck are never going to find out.
Latest posts by noelyovovich (see all)