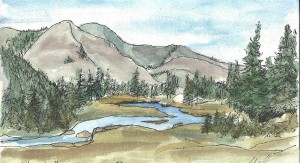 I think I'm ready to share another part of my dream. It feels a little scary to tell the world about it, though I'm not sure why. But it's been slow-marinating for quite a while now, and I think I need to put the idea out there for the Universe—and for you.
I described in my last post the place I see myself— working in a serene and beautiful place, welcoming guests to my bright and sunny gallery space. Over time, that image has expanded. I now see this space as being part of a small B&B. Ideally, it is in a seasonal destination where I can work hosting my B&B guests during the busy season, and create art during the off-time. The artist's life tends to be an isolated one, as most of us create in solitude. I love solitude, but I realize increasingly how much I also need community.
I am also coming to appreciate more and more the strength of the web of "weak ties" we weave, that can hold and sustain us even when we may be without those central "strong ties" we know so well—spouse, children, parents, a few intimate friends. Every post I write, everyone who reads my words, all my "friends" on Facebook, my "followers" on Pinterest—every contact adds to the invisible network that lifts and embraces.
A B&B seems like a wonderful counterpoint to the isolation that I need for creativity. That, and a Unitarian Church community.
Where did this idea start?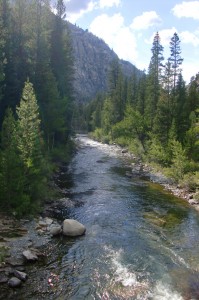 Last August, I went on a 9 day, 36+ mile wilderness backpacking hike on the John Muir Trail in California, with a group of 13 others—ranging in age from 20 years younger than me to 40+ years younger, including one of my daughters. (I was the slowest one, but I made it, and I loved it. It was amazing, a unique experience for me, very hard and very worth it.) On the trail I met a woman my own age who was doing a 30-day solo hike. She told me about the B&B she has in Northern California, and urged me to think about doing something similar.
I heard her, and I've been thinking about it ever since (Ellen, are you listening?) In the art biz, it is a good idea to have more than one revenue stream. The most typical is teaching, and I imagine adding that to my space over time. Come to my B&B, get pampered, buy a pastel of that river you visited yesterday—and take a workshop where you make your very own hammered ring with a diamond set in it! I think this is a wonderful and practical idea, and something I can make work, a way to settle in for the next stage, maybe the rest of my life.
POST SCRIPT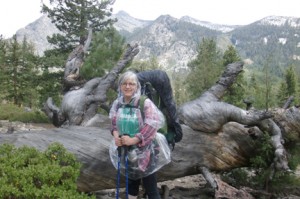 I want to thank everyone who responded to my first Winged Pig blog post. There are some great suggestions and offers—just the kind of responses I was hoping to inspire. I hope to make use of each and every one. PLEASE—keep them coming!
As this dream comes more and more clearly into focus—and as I hear from so many of you who share the same or similar dreams I become more and more stoked about the idea. I wish I could take off, like, SOON!!!
Of course, real life has a way of having its own timetable. Um, another month, month and a half to finish getting the house (with its 30-year accumulation of impedimenta) ready to sell… a month to sell it (really, that's what the agents say! This is a very hot area)… 45 to 60 days to close… THEN I'll have some money to buy an RV, get it fitted out with what I need (like, you know, a jeweler's bench)… That puts me four to six months out. Shoot, I really want to get rolling sooner. And of course there's the divorce to get done in there somewhere. Too bad I have (and need) a job—I could do all this a lot easier without it, except I couldn't pay my bills.
Anybody got a spare pile of money lying around you want to send my way? "I now receive my good from expected and unexpected sources" (Thanks, Erlene)
Latest posts by noelyovovich (see all)