Turquoise is one of my favorite stones, the variety of color and hue keep me interested and the different mines keep me searching. The mother stone or matrix in which turquoise typically forms adds interest in it's own variety. Hunting turquoise at the Tucson Gem show consumed me this year, I found lots of it here some good, most of it bad and some fantastic.
One of my great finds this years came from a friend I have known for over 30 years and he lives right here in Tucson. He had natural Morenci which has been out of the ground for many years. Being out of the ground for years means it's stable. Large pieces of American natural turquoise are becoming increasingly hard to find but some pieces of this Morenci are quite large.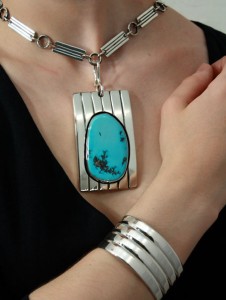 This pendant draws it's design from the very popular ridge bracelet my grandfather started making in the 1920's. The linear design continues around the neck on the chain. The pendant is a shadow box with one of the wonderful large pieces of Morenci turquoise I cut. The bracelet is solid sterling with deeply incised lines just as my grandfather made them.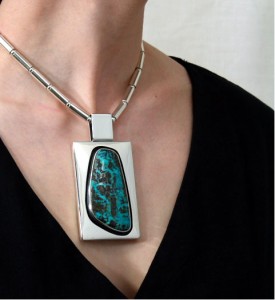 This shadowbox pendant is set with a piece of Morenci I traded for last year. I was waiting for inspiration and came up with this bold pendant. I put it on a tube and bead chain which I have never made before and I love it, the chain looks great seperate. It has an almost solid look to it like the collars I love so much but is flexible.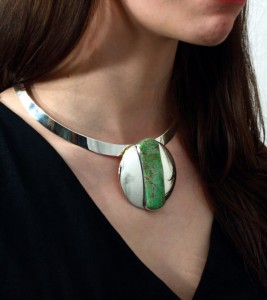 This last pendant is set with Carico Lake turquoise. I have had this piece of turquoise sitting on my bench for over a year, wondering what I was going to do with it. It was cut into a long rectangle with rounded ends and is long. I usually don't put turquoise in modernist pieces but this shape was non traditional for turquoise. I have this shown on a link back collar which is solid in front and has my hand made chain around the back.  This collar looks great with out any pendants on it as a simple daring silver stripe around your neck.
Some of these pieces are already sold but if you are interested please look at my "About Patania" page for contact information. I didn't post prices here since the prices of metals are changing so fast these days.