When it comes to Pearls, Im a big fan of Tahitians'.  Namely because black will always be the new black.  This project started off wanting to use undrilled beauties that had some kinetic properties to it and evolved from there.
The construction was farily simple, create a shape that was pretty pleasing and could be combined with itself to form a cage.  Once the design was finalized, it was cut via the three axis machining center.  A total of 30 pieces were cut (26 for the necklace, and 8 more for matching earrings and hair pins, not shown).  This in itself was a time consuming process, as anyone knows machining stainless steel does take quite some time, especially with an 1/8″ endmill.
After the blanks were cut out, a lot of grinding and finsh work was preformed to give some taper to the pieces and to refine it from a chunk of 0.120″ steel plate into an elegant cage.  Once the shapes were refined, the two pieces were put together and plasma arc welded at the top.  Then came the cleanup of the weld, bead blasting to give it a softer feel, with a diamond cut texture along the edges, and a sanded highlight in the small circular cutout.
"Beads" were made from stainless steel tubing, along with the clasp, a fabricated wire and tube contraption that was soldered together.  The pearls were then inserted into each cage by bending one of the arms just enough to fit the pearl in and then bent back.  From there, all the parts were strung onto a stainless steel cable for good measure.
This is the final product.  The pearls do move freely within their respective cage and have an audible quality that was unexpected….a sweet bonus.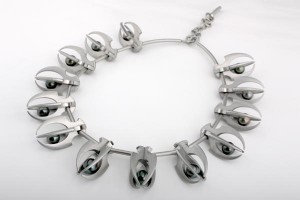 I really enjoyed this journey and the successful excecution will lead to more kinetic projects along these lines.
P@
www.patpruitt.com
Latest posts by patpruitt (see all)