About the Primitive Method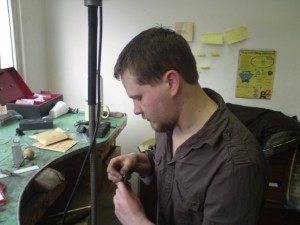 Welcome to the Primitive Method. This blog explores the metalworking practices of the medieval period, using experimental archaeology and analysis of extant texts. My focus is primarily on precious and non-ferrous metals, but there are elements of chemistry, toolmaking, and many other crafts that cannot be avoided in this line of inquiry. I am particularly interested in the chaîne opératoire of the workshop, and what it teaches us about the working lives of goldsmiths, metallurgists and alchemists.
There are dozens of distinct techniques, each depending on other tools and technologies. When artefacts are examined, the methods of production can be determined, and these are suggestive of the context in which the artisans worked – the tools they needed, the materials they had access to, and the scale of their workshops. Visualising the information is an important way to understand it, and to that end, I have produced a flowchart that details some of these links (Click the image to view the PDF file). This is an ongoing project, and there is a great deal more to add. Our medieval forebears had a surprising range of skills.
None of this would be possible without the writings of ancient practitioners. I am indebted to the the treatises of Cellini and Biringuccio (from the Renaissance), the unknown authors of the Mappae Clavicula manuscripts in the first millenium AD, and most of all, Theophilus, the 12thC author of On Divers Arts, who speaks across the centuries, and has so much to teach us.
Sharing information and expertise is the ultimate purpose of the Primitive Method. If you have questions, ideas or suggestions, please leave a comment, or get in contact on the email address below.
I am available for public speaking, consulting, manufacturing and experimental archaeology. I have worked with organisations including the Wellcome Trust, UCL's Institute of Archaeology, Birmingham Museum & Art Gallery, and also appeared on the TV series Museum Secrets. My historical work is built on a decade of contemporary goldsmithing experience, and I pride myself on a pragmatic approach to complex projects with short timescales.
Contact details:
Name: Jamie Hall
Location: Midlands, UK
Phone: 07970 667712
Email: admin@primitivemethod.org
Twitter: https://twitter.com/PrimitiveMethod
Latest posts by Jamie Hall (see all)
Latest posts by Jamie Hall (see all)