I should point out that this book covers goldsmithing and sculpture, and I have no knowledge of sculpture, so I can't vouch for the quality of the information in the second part of this text. The full title is The Treatises of Benvenuto Cellini On Goldsmithing and Sculpture.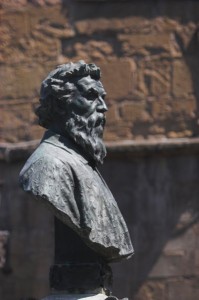 Having spent some time reading Theophilus, I was expecting that Cellini (pictured) would be more of the same – that's not to criticise Theophilus, but he is very dry and serious, as you might expect a teacher to be. Cellini, on the other hand, is a very different experience. He writes in his later years, explaining the various places and processes in which he had worked, and the function of the book seems to be less about teaching, and more about showing how great he is, and how many important people he knows. I hope that this won't be seen as a slight against him, however – the book is extremely insightful in many places. For example, in chapter 22, he is discussing the manufacture of silver vases from a cast disc. Once the disc is beaten smooth, it is balanced on point, so that the exact centre can be marked, and once the vase is shaped, the surface of the vessel is chased, not by laying it on an anvil horn, but by filling it with pitch – in effect it becomes a pitch bowl for itself.
 Despite his self-belief, he shows a self-deprecating aspect – when he describes the balancing of the disc, he explains "I have no doubt that there are masters who can find the centre point straight away without having recourse to this little dodge, especially when working on small plates, but for large pieces I have always found it very helpful."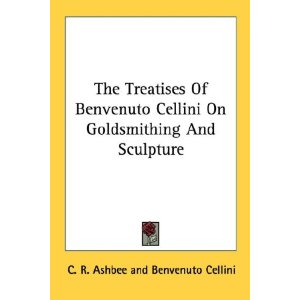 Another curious aspect of his prose style, and the one that greatly endears me to him, is his sense of humour. Some of this book is laugh-out-loud funny, unlikely as that might sound. In chapter 3, he is describing how to make a small sponge for dabbing at enamel paste, by chewing up some paper: "If you want your enamels to come out properly you must take a nice clean piece of paper, and chew well between your teeth, that's to say if you've got any, – I couldn't do it because I've none left…" Earlier in the same chapter, he goes off on a tangent to describe how one elderly Milanese aquaintance always went by the name Master Caradosso, after his verbal abuse caused a spanish customer to call him "bum face", or perhaps "potty mouth" was the intended meaning.
 None of this should cause us to lose sight of how useful this book it. While it doesn't go into orderly detail in the way that Theophilus does, the rich descriptions of each process are very helpful. The book is too late for the period I'm studying – and the early forms of several modern industries are apparent, including medal-making and engraving – but the text has enough context that the descriptions are clear, which is far easier to follow than the oblique instructions often given by Theophilus.
Contempory and Medieval Metalworker
Latest posts by Jamie Hall (see all)