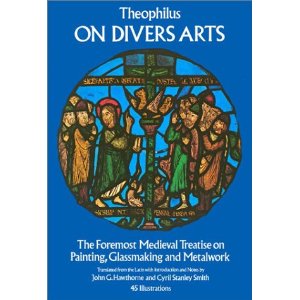 When I started this project 3 months ago, the book I kept hearing about was On Divers Arts by Theophilus. Initially, I was unsure about purchasing a lot of books, and I spent some time searching the web for journal articles, research papers and out-of-copyright books. Very quickly, I found an old translation of the Theophilus text, by Robert Hendrie, which is available in PDF form, consisting of the three books with alternating pages of Latin and the English translation. This was invaluable to me, but it doesn't have many notes, and there are no diagrams – the descriptions are literal translations from Latin into a slightly archaic version of English. With these problems in mind, I decided it was worth purchasing a modern copy of the text, which is pictured.
 The first big improvement in Hawthorne and Smiths' translation is that it's a collaboration between a translator and a metallurgist, so the chapters are approached with a practical eye, and the notes are very detailed, sometimes using up more of the page than the chapter they are referring to. It's worth noting that the chapters are very small; each one is really a paragraph.
 As with Cellini's Treatises…, the book covers more than just metalworking – the first two sections are on glass and painting, which I've only looked over briefly – I have no experience in those areas. Even within Book III, the subjects covered are wide ranging. The initial concise chapters on setting up the workshop and a toolkit give way to recipes and instructions for making and colouring large gold and silver items like bookcovers, altars and censers. There is little information specifically on personal adornment, but the processes of chasing, polishing, soldering are just as applicable to small pieces as they are to the large ones the Theophilus describes. The end of the book is mostly given over to the manufacture of bells, cymbals and pipe organs, with detailed diagrams and tables provided by the translators; perhaps not immediately useful, but we've made gold harp strings before, at work, so who knows.
 The translators provide an index, a bibliography, an analysis of previous editions of the text, and a range of diagrams and photographic plates, all of which makes it a significant improvement over the free versions of the book available online.
Contempory and Medieval Metalworker
Latest posts by Jamie Hall (see all)