At long last, it's time to start putting together a toolkit. I'll be doing this in 3 stages: Scavenging, Making and Buying. Buying will be the last resort, but I will inevitably have to spend quite a bit of money. This post covers my initial scavenging run, at my dad's workshop in Derby, UK.
My dad has run the business for 35 years, and he did jewellery work before that, at home. As you can imagine, by now he's built up quite a collection of tools in various states of repair, plus larger machines – including two lathes, a CAM wax milling machine, and a laser welder. There's an old post about the workshop here. In addition to his own purchases of new tools, he's bought boxes of old tools at auction, or through private sales, and these boxes are treasure troves of equipment, some of it leaving me baffled as to it's purpose, and some so damaged that it is beyond repair.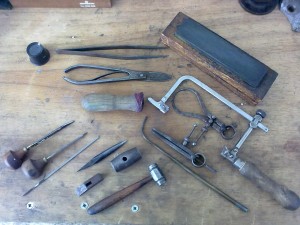 With those years of tool purchasing behind it, the workshop has plenty of spare tools, and ever-diminishing space to store it all. Where we have multiples of a tool, I've been able to take one for myself, on permanent loan. Out of work hours, I spent an hour cleaning out the cupboards, and setting aside tools as I went. The first haul is pictured (right), and the files I've taken are pictured below.
In the first picture, you can see a loupe, large tweezers, shears, a whetstone, a shellac stick for setting, three gravers, a burnisher, three small hammers, a blowpipe, a saw-frame and two dividers. While the saw frame and the loupe have no direct equivalent for the early medieval period, all of the others are similar enough to be acceptable. There's quite a lot of cleaning up to do – almost everything needs attacking with oil and steel wool, to remove corrosion and protect the tools. The shears, hammers, gravers and burnisher all need to be repolished, and (apart from shears) given new handles. In a few cases, there are spare handles at work (same for the files), but others I will need to buy. I'll need to buy larger hammers, as the ones shown are really tiny.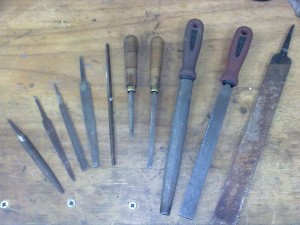 The files (left – right) are: Half-round, warding, flat, warding, triangular, half-round, flat, large half-round, large flat and very large flat. They need cleaning out with a steel brush, and the largest file may be too corroded to be useful. I haven't taken any needle files – we have such a huge variety of shapes that even multiples of each type tend to be a little different in terms of teeth, thickness and number of safe faces. I'll buy my own needle files, and I'll need a few more of the larger files, particularly a round and a square file.
I've also been given a swaging block for making octagonal collets; the block is in great condition, but the punch has a broken tip – this renders some of the smaller holes useless, but I'm unlikely to want very tiny octagonal settings anyway. More swaging blocks will definately be needed, especially a doming block and a wire swage with half-round grooves.
Significant items that I haven't been able to scavenge include bellows, drawplates, chisels, ingot moulds, crucibles, drill bits, brushes (hair, brass and steel), polishing equipment, mandrels, clamps and vices, set square, ruler, knife and scales. There are many more things I need, and if there are any obvious one that I've missed, please post a comment. Also, if you have any suggestions for the next stages – making and buying tools – then please let me know; I'd appreciate your advice.
Contempory and Medieval Metalworker
Latest posts by Jamie Hall (see all)