My granddaughter will be celebrating her birthday this July. As with the other recent birthdays, I try to make her a unique artisan piece of jewelry. This year, I am also honoring her for being inducted into the National Honor Society at her high school. Less than 1% of the students in her school receive this honor.
Debbie and I mined in Franklin, NC (the Cowee Valley, where there are active ruby and sapphire mines) and found several pieces of ruby. I have had this piece of rough for a couple years now, and thought it would make a great cabochon. The stone is not of facet quality. The associated mineral us Fuchsite (a form of Muscovite mica, usually green).
The rough was basically a drop shape, so I followed that and cut the cabochon using a Genie cabbing machine. The result is a 148.95 carat cabochon, with a wisp of fuchsite still attached. Then I designed a "frame" of wire, sheet and bezel wire to hold the stone to make a necklace. All components are Sterling and Fine silver. The wire wrap was soldered to the back of the piece, then wrapped across the front to hold the bottom of the stone in place. Fine silver bezel wire was soldered in place to hold the top point of the cabochon in place. Finally, the bail was added and soldered together. The pendant was then hung from an 18 inch Sterling Silver chain.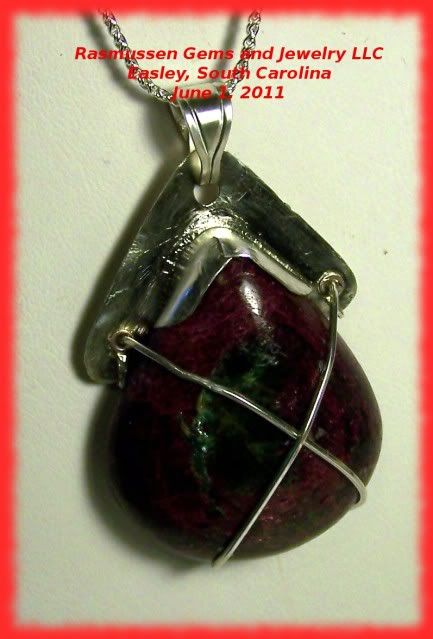 I hope you enjoy looking at it as much as I had crafting it.
66 year old retired educator (geology and emergency medical care) and practicing paramedic. I came back to my passion, rocks and minerals, then making gemstones and jewelry with them.
Latest posts by John Rasmussen (see all)