In the continuing saga of making jewelry for my wife (she does get first chance at anything done), she chose two stones to be turned into cabochons the then jewelry. The smaller tourmilated quartz was to be a ring, and the Peruvian blue opal to make a necklace. After the lapidary work, the opal was drilled to make it a pendant, strung on black leather and add a steel chain and lobster claw clasp and we have a necklace.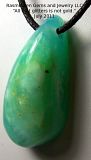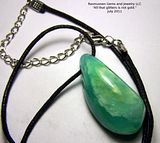 The ring of course was a bit more difficult. In this case, I bought the ring shank and the head from a casting company. Then I had to size the shank, solder the head in place, pickle the piece, then polish it. Unlike a lot of artisan jewelers, I do not own a tumbler, so I hand polish all my pieces. Final polishing is done with Dremel and red rouge.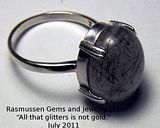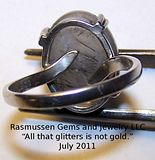 This is so much fun, sometimes I forget that I have other things to do (like sleep). Everyone, have a great summer.
66 year old retired educator (geology and emergency medical care) and practicing paramedic. I came back to my passion, rocks and minerals, then making gemstones and jewelry with them.
Latest posts by John Rasmussen (see all)