Kathie Depew over at Cotton Ridge Create! is hosting a pretty cool giveaway that's geared towards the artists her site looks to promote.  I entered because how fun would it be to get some new materials to play around with… and for FREE!  The instruction books look like they're gorgeous all from cover to cover.  There are enough supplies to creat complete pieces and a chocolate bar to keep you going.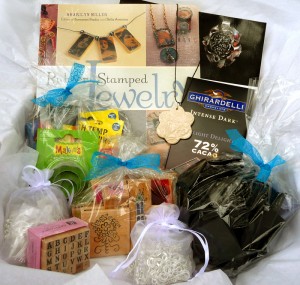 Jewelry Makers Prize Pack
After the entering the giveaway take some time to check out the rest of the blog.  Kathie has a handfull of yummy looking recipes. tips for craft shows and online galleries of work from other artists.  I'm in love with this hair pin from Ekaterina Fedotova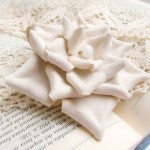 Fabric Flower Hair Accessory
I'm Sarah Loch-Test, an artist from Columbus, Ohio. I've been making jewelry for as long as I can remember! I like to have fun with my work and combine childhood obsessions (like Dinosaurs!) with elements of design and craft that inspire me. Art Nouveau, Islamic and Indian craft are my favorite sources of inspiration and I hope you can see that in my jewelry. My work can be found at the Mac Worthington Gallery, The Columbus Cultural Arts Center and on permanent display in Northland High School. I'm a graduate of the B.F.A. craft program at Kent State University, concentrating in Jewelry Metals and Enameling. I sometimes get distracted and work in other mediums such as felt or will do some sewing. I've been in shows and exhibitions at Kent State, the SNAG Conference and around the Columbus Area. You can view other work at www.SarahLoch-Test.com Find my on Facebook: www.facebook.com/SarahLochTestJewelry Twitter: @SarahLochTest Currently I'm in Pittsburgh, PA at the Society of Contemporary Craft, where I am the first ever Studio Apprentice. I'll soon be moving to North Carolina, to start grad school at East Carolina University.
Latest posts by Sarah Loch-Test (see all)