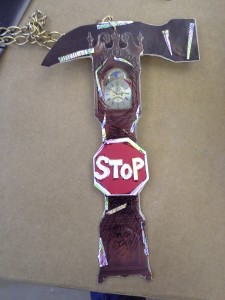 This past Monday was a Teacher In-Service day and a group of art teachers from the Pine Richland School Distict here in the Pittsburgh area came to SCC to do activities.  They spent with the morning with local artist Gerry Florida then got a tour of the Humor In Craft exhibit.  I came in to do an activity in the afternoon with them called Junk Joke Jewelry.  I was a good chance to laugh, play and create with recycled matereials.  Here are a couple of things the teachers made: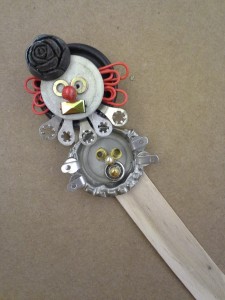 They made an variety of pieces.  The jokes behind the art were inspired by their own students, teachers they've had, their own personalities and the materials available.  It was weird instructing teachers… but at first they were kind of like the kids they teach everyday.  They were distracted, kept interupting, made me show them how to make rolled up paper beads and were stuck on having a joke with a clear punchline.   They settled down and I was able to get away from a classic joke form, no joke is universal, so why restrict yourself with a punchline.  Your joke can lie in the form of jewelry, materials or symbols, not just in words.
I'm Sarah Loch-Test, an artist from Columbus, Ohio. I've been making jewelry for as long as I can remember! I like to have fun with my work and combine childhood obsessions (like Dinosaurs!) with elements of design and craft that inspire me. Art Nouveau, Islamic and Indian craft are my favorite sources of inspiration and I hope you can see that in my jewelry. My work can be found at the Mac Worthington Gallery, The Columbus Cultural Arts Center and on permanent display in Northland High School. I'm a graduate of the B.F.A. craft program at Kent State University, concentrating in Jewelry Metals and Enameling. I sometimes get distracted and work in other mediums such as felt or will do some sewing. I've been in shows and exhibitions at Kent State, the SNAG Conference and around the Columbus Area. You can view other work at www.SarahLoch-Test.com Find my on Facebook: www.facebook.com/SarahLochTestJewelry Twitter: @SarahLochTest Currently I'm in Pittsburgh, PA at the Society of Contemporary Craft, where I am the first ever Studio Apprentice. I'll soon be moving to North Carolina, to start grad school at East Carolina University.
Latest posts by Sarah Loch-Test (see all)