I realized I haven't talked much about what I've actually been making lately.  I started playing around with flower and leaf shaped copper pieces that I enameled, fusing the pieces to copper wire.  At first I used a layer of opaque white and then painted transparent colors over top.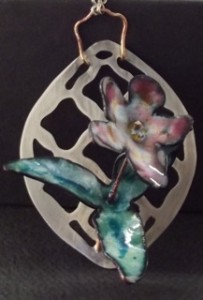 Sometimes I don't pay very good attention when something's in the kiln, so I over fired some of the white enamel.  I love the burned out look I got on the plants, which totally fits my theme of nature being over run by cityscapes.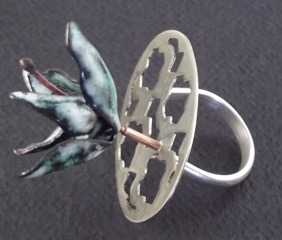 Each of these pieces have one of these sad looking plants, mounted to a pristine architectural inspired grate.  Not sure where I'm going with these, this last one is my favorite so far…it has a more complex structure.  It was lots of fun to solder.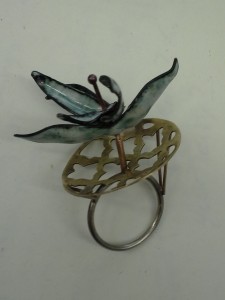 I'm Sarah Loch-Test, an artist from Columbus, Ohio. I've been making jewelry for as long as I can remember! I like to have fun with my work and combine childhood obsessions (like Dinosaurs!) with elements of design and craft that inspire me. Art Nouveau, Islamic and Indian craft are my favorite sources of inspiration and I hope you can see that in my jewelry. My work can be found at the Mac Worthington Gallery, The Columbus Cultural Arts Center and on permanent display in Northland High School. I'm a graduate of the B.F.A. craft program at Kent State University, concentrating in Jewelry Metals and Enameling. I sometimes get distracted and work in other mediums such as felt or will do some sewing. I've been in shows and exhibitions at Kent State, the SNAG Conference and around the Columbus Area. You can view other work at www.SarahLoch-Test.com Find my on Facebook: www.facebook.com/SarahLochTestJewelry Twitter: @SarahLochTest Currently I'm in Pittsburgh, PA at the Society of Contemporary Craft, where I am the first ever Studio Apprentice. I'll soon be moving to North Carolina, to start grad school at East Carolina University.
Latest posts by Sarah Loch-Test (see all)