Sharif Bey, a ceramics artist and art educator, grew up in Pittsburgh and will be returning to the city to teach a workshop at Contemporary Craft.  The workshop, entitled Object & Identity, takes place on Saturday & Sunday, January 26 & 27.  Students will make clay objects infused with cultural, historical, political and personal meaning, all issues Sharif deals with in his own work.  He will also demonstrate  how to use alternative finishing techniques and incorporate steel hardware to add visual content.  This visit coincides with a solo exhibition of his work at Slippery Rock University's Martha Gault Art Gallery, running February 4th to March 1st.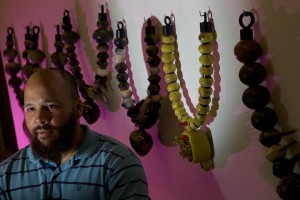 I asked Sharif a few questions about him and his work, Brigitte Martin threw a question my way, as well.
Brigitte Martin, Crafthaus Editor: Has your work been influenced by the architecture or feel of Pittsburgh?  What do you remember most from growing up here?
Sharif: The architecture of Pittsburgh didn't have much of an influence on me but there is a significant difference in Northeastern neighborhoods and those in the South where I lived for 5 of the last 9 years. I miss the close-knit communities and mom and pop stores we once had in Pittsburgh. The newer subdivisions with easy access to Walmart etc. don't provide us with much opportunity to bond in the way we once did. The studio provides me with a quite place where I often reflect on my childhood and community. I grew up on the Southside of Pittsburgh (Beltzhoover) in a huge family (6 brothers and 5 sisters) during the decline of Industrialized city. I miss the old city when the Trolleys carried us all over town. My father sometimes took me to bakeries, fruit stands, locksmiths and other small businesses in Allentown, Arlington, Southside flats or Mount Oliver where I observed such a diversity of people. Sadly these places no longer exist.
The arts community in Pittsburgh was amazing in the 1980s. I benefited from it at an early age as I have been actively making objects since I was a child. Much of my work stems from my revising experiences, connections and influences of various people (artists, teachers) and institutions in the Pittsburgh area. I attended Rodgers, (CAPA) Carnegie Museum Saturday classes, The Manchester Craftsmen's Guild and Precollege programs at CMU, Slippery Rock, and IUP. I got to meet and build relationships with so many local artists; Marie Kelly, Josh Green, Denise Suska-Green, Norman Brown, James Shipmen, Ed Eberle, Thad Mosley, K.  Leroy Irvis, and Valda Cox were especially influential and supportive in my formative years.
Sarah:  Attending the Manchester Craftsmen Guild was a crucial experience in your education and path to the arts.  How does the mentorship you received there manifest in your own teaching techniques today?
Sharif:  I am an artist but I thrive in the company of people. I love teaching as much as I love making art and I attribute this to my early experiences at the MCG. I grew up making things in the company of interesting people from various walks of life. I not only attended the after school programs with other students at MCG I stayed into the evening to throw during the continuing education classes. I worked along side of art teachers, artists, hobbyists and retirees.  I grew technically but the social exchange was invaluable for I had no other way of accessing such a diversity of people in a safe and productive environment.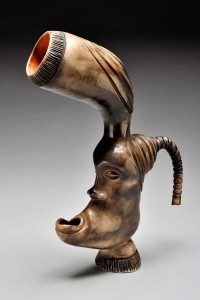 Sarah:  The workshop you'll be teaching at Contemporary Craft addresses incorporating cultural, historic and political issues into artwork.  What issues are you currently commenting on in your work?
Sharif: The process of exploring my identity as an African-American, husband, father, artist, educator, art student, and functional potter creates a dialogue in the studio that never grows tiresome. As I continue to unpack my identity this conversation is renewed. My recent work explores my personal history as a maker and the resulting connections (people, places events).  Process, technique and material facilitates avenues for relocating memories as staring points for new trajectories. I might honor an old friend and produce works comparable to that which he/she was making last time we spend time together as a point of departure for new ideas. At present I have been making simplistic functional salt-fired pots in tandem with my hand build sculpture. Process informs process.
 Sarah:  When you address, say a political issue, do you prefer make a strong opinion statement or leave your personal views open ended so that the audience can draw conclusions?  Do you think either approach is more effective?
Sharif: I hope that my work will promote dialogue and increase the visibility of issues.  In my view strong works of art are generative and continue to evoke meaning. While I have strong views about many issues I think it is important for people to grow with works of art. Meaning should be shared and continually negotiated not imposed.
I hope that my works will serve as conversation starters and offer something to people despite their perspectives or levels of life experience or experience with art.
Sarah:  Are there other artists that work with social issues that influenced your thinking and the way you appropriate them?  Who and what attracted you to their work?
Sharif:  Some artists share what they know while others are using the visual arts to question and testify to the human condition or the world. I appreciate the genuine quest of artists who do the later. I respond to vulnerability and honesty in the work. Most of the work I enjoy is nonwestern; Pre-columbian and not about social issues but I enjoy contemporary Craft artists who push the perceived boundaries ofcraft like Xenobia Bailey, Lee Bontecou Martin Puryear, Magdalena Abakanowicz, and artist Red Grooms, and Mark Dion.  I also learn a great deal from artists who address social issues who are not invested in object making in the traditional sense. Performance artists including; Marina Abramovic, Guillermo Gomez-Peña, James Luna, and Chris Burden inspire me to push.
I'm Sarah Loch-Test, an artist from Columbus, Ohio. I've been making jewelry for as long as I can remember! I like to have fun with my work and combine childhood obsessions (like Dinosaurs!) with elements of design and craft that inspire me. Art Nouveau, Islamic and Indian craft are my favorite sources of inspiration and I hope you can see that in my jewelry. My work can be found at the Mac Worthington Gallery, The Columbus Cultural Arts Center and on permanent display in Northland High School. I'm a graduate of the B.F.A. craft program at Kent State University, concentrating in Jewelry Metals and Enameling. I sometimes get distracted and work in other mediums such as felt or will do some sewing. I've been in shows and exhibitions at Kent State, the SNAG Conference and around the Columbus Area. You can view other work at www.SarahLoch-Test.com Find my on Facebook: www.facebook.com/SarahLochTestJewelry Twitter: @SarahLochTest Currently I'm in Pittsburgh, PA at the Society of Contemporary Craft, where I am the first ever Studio Apprentice. I'll soon be moving to North Carolina, to start grad school at East Carolina University.
Latest posts by Sarah Loch-Test (see all)