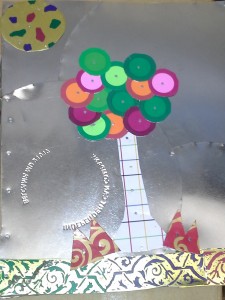 This post is a couple weeks over due, I think I needed some time to recover from the chaos.  One of the outreach programs Contemporary Craft does is called Artist & Kids, which is for kids between ages 12 & 16.  They spend two days working with an artist to complete a project.  Our artist was Robert Villamagna and the project we did was Tin Can Collage.  Ten teens invaded our studios, creating a cacophony of hammering and art making.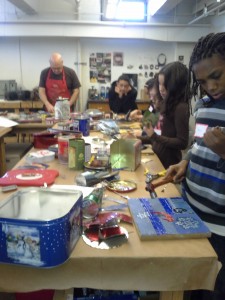 The kids did an awesome job, it was great to see how they each created something that reflected their personalities.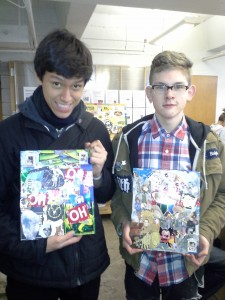 Then we panicked, some of the kids had finished their collages on Saturday, so we needed to make  game plan for Sunday.  So that meant I got them for a jewelry/enameling project.  We went through all the saw blades, but I only got burned once.  Again it was chaos, but some of the students really took to the craft.  There was some awesome layering of color!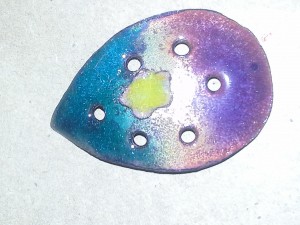 For me, it was a fun challenge to keep up with all the kids who all had different skill levels.  None of them had worked with copper or enamel, some are students at the arts impact high school, others had little to no art experience prior to this weekend.  I was really impressed not only by the pieces made, but also by how the kids helped out one another.  I even got some of the kids to instruct their peers, doing simple tasks like drilling with the flex shaft.  Gotta love delegating!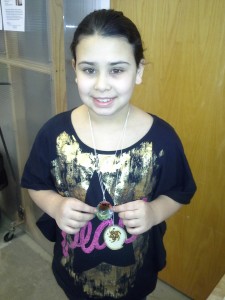 Robert has a lot more great photos from the weekend over on his blog.
I'd like to give a 'shout out' to Pittsburgh Center for Creative Reuse and my mom for providing the majority of tins that were slaughtered for the sake of craft education.
I'm Sarah Loch-Test, an artist from Columbus, Ohio. I've been making jewelry for as long as I can remember! I like to have fun with my work and combine childhood obsessions (like Dinosaurs!) with elements of design and craft that inspire me. Art Nouveau, Islamic and Indian craft are my favorite sources of inspiration and I hope you can see that in my jewelry. My work can be found at the Mac Worthington Gallery, The Columbus Cultural Arts Center and on permanent display in Northland High School. I'm a graduate of the B.F.A. craft program at Kent State University, concentrating in Jewelry Metals and Enameling. I sometimes get distracted and work in other mediums such as felt or will do some sewing. I've been in shows and exhibitions at Kent State, the SNAG Conference and around the Columbus Area. You can view other work at www.SarahLoch-Test.com Find my on Facebook: www.facebook.com/SarahLochTestJewelry Twitter: @SarahLochTest Currently I'm in Pittsburgh, PA at the Society of Contemporary Craft, where I am the first ever Studio Apprentice. I'll soon be moving to North Carolina, to start grad school at East Carolina University.
Latest posts by Sarah Loch-Test (see all)