I recently had the opportunity to travel to Albuquerque, New Mexico, home of Rio Grade, a jewelry supply and tool  company.  I ended up there to take a workshop on the Bonny Doon Hydraulic Press; Society of Contemporary Craft just acquired one of these beauties and Rio Grande was generous enough to donate the tuition for this workshop.  As the Studio Apprentice at SCC, I was nominated to make the trip.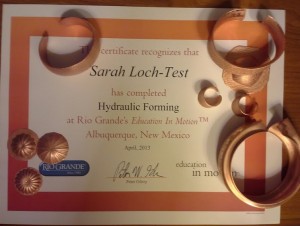 The two day class was taught mostly by Peter Gilroy, but Phil Poirier was around to jump in, demo and answer questions.  A third instructor, named Brooke, was also on hand to assist students.  Phil is an accomplished jeweler who has helped to develop the Bonny Doon line of innovative tools and equipment.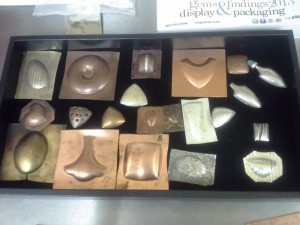 The classroom boosts a mouthwatering set up of four 20-ton presses, two manual and two electric.  My fellow students and I received step by step instruction, complete with mini lectures and power points, demonstrations and an appropraite amount of work time.  We started with basic metal texturing and silhouette dies, and because of the format of demo followed immediatly by work time, then more demos, students were able to build skills gradually.A lot of material was covered, but I didn't find it overwhelming.  I've actually had a lot of previous hydraulic forming experience, but it was so cool to get more indepth information straight from the source.  I also got some play time, being able to experiment and combine techniques.  They also gave us some really nifty tricks; I never thought of using little pieces of sandpaper or drops of liquid Burr Life to manipulate how metal flows into my dies!  Genious!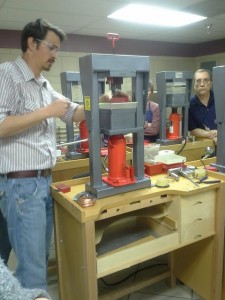 Since I was there I couldn't pass up a tour of Rio Grande's facilities, which are super organized and effecient.  They make a lot of findings and other items in house, and have a whole team of CAD designers, wax workers, casting and finishing shops.  You can tell theat they treat their employees really well and that everyone wants to be there.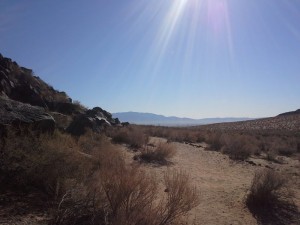 I had some down time while in Albuquerque so I made the most of the deluxe weather.  The first night I ran about 6 miles on the trail that runs along the Rio Grande river.  I also wondered around downtown and the historic Old Town. I had Thursday all to myself, so I went to the Petroglyph Historic Monument park early in the morning.  The first trail takes you along a series of native american Petroglyphs and through a desert walk.  I picked up a bunch of things- rocks, broken glass and ceramic, wood- from the desert, an activity I call 'Ebendorfing.'  I also climbed to the top of some now defunct volcanoes, it was a lovely break from the grime and rust of Pittsburgh.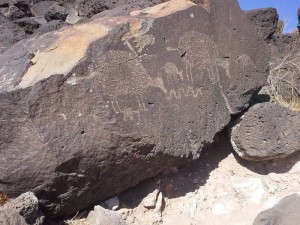 After my morning in the desert I cleaned the sand off and went to Albuquerque's Art Museum, arriving on time for tour of their Japanese Deco exhibition.  I learned a lot!  I bummed around Old Town for the rest of the evening and in the morning before flying back east, I wondered along the river some more.  The southwest seems morerelaxed then Ohio and Pennsylvania part of the US.  It was really refreshing, and I still need to get some studio time in to use up some of the samples from the workshop and incorporate my desert treasures.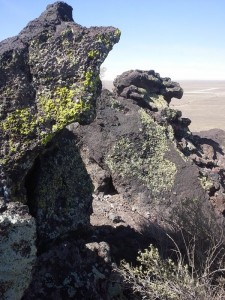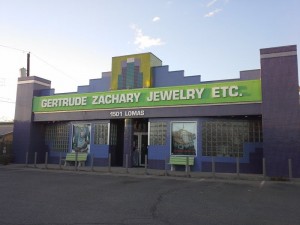 I'm Sarah Loch-Test, an artist from Columbus, Ohio. I've been making jewelry for as long as I can remember! I like to have fun with my work and combine childhood obsessions (like Dinosaurs!) with elements of design and craft that inspire me. Art Nouveau, Islamic and Indian craft are my favorite sources of inspiration and I hope you can see that in my jewelry. My work can be found at the Mac Worthington Gallery, The Columbus Cultural Arts Center and on permanent display in Northland High School. I'm a graduate of the B.F.A. craft program at Kent State University, concentrating in Jewelry Metals and Enameling. I sometimes get distracted and work in other mediums such as felt or will do some sewing. I've been in shows and exhibitions at Kent State, the SNAG Conference and around the Columbus Area. You can view other work at www.SarahLoch-Test.com Find my on Facebook: www.facebook.com/SarahLochTestJewelry Twitter: @SarahLochTest Currently I'm in Pittsburgh, PA at the Society of Contemporary Craft, where I am the first ever Studio Apprentice. I'll soon be moving to North Carolina, to start grad school at East Carolina University.
Latest posts by Sarah Loch-Test (see all)