When I visited East Carolina University this past April, Ken Bova asked me 'What do you want to make when you get here?'  I've been thinking a lot about this question since then.  It hasn't helped that I haven't gotten too much studio time in since then for various reasons.  I wanted to make an effort at composing all the thoughts and ideas I've had and all the ideas I've gotten from the numerous artists I've met along the way.
Pittsburgh has no shortage of young artists and educators.  I've made friends with a couple of the instructors from the Children's Museum (it's for science-y learning, not taxidermied toddlers, boo, right?). We had a studio play date back in February where we needle felted steel wool into wool roving, using it to complete a circuit with an LED light and cell battery.  I made these cute little 'Green Building Brooches' the fall before, and back in undergrad at Kent, I had made candle holders, both with Plique-a-jour enameling,.  So one of the first things I'd like to make is a whole cityscape that lights up, taking advantage of the transparent enamel.  Maybe I could even figure out how to use solar panels!  I liked doing electrical work on Fury Factory costumes,  only that stuff never had to be pretty.  The challenge would be to get all this electrical stuff covered, or at least successfully incorporate it into the design.  Dauvit Alexander made a nifty little light up piece with our Artist & Kids workshop a couple weeks ago, with the battery and wiring being hidden inside of the Altoids tin.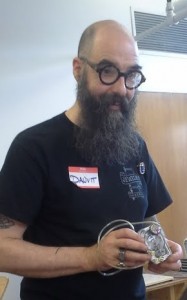 Dauvit and the piece he made during Artist & Kids, of course there was a skull!
Wall pieces!  I'm not too happy with the large scale enamels I did at Kent, but I super miss that 12 foot long kiln, it was quite cozy in the dead of winter!  I could stare at Kat Cole's wall pieces all day and not be bothered by it.  I've picked up a couple of awesome rusty pieces off the streets of Carnegie and Pittsburgh.  They'll fit wonderfully in wall pieces that relate to my Urban Nature jewelry.  More layered enamel pieces and bigger cadmium flowers.  Yesss.  Since I've used sewer cover images maybe I need to do a floor piece too?
Obviously I want to make more wearable pieces.  More plants, soil, rust and decay, and new life.  I need better plants, so I'll use some of Wayne Werner's small scale raising techniques.  I also just want to do more insane chasing and repousse because it's so relaxing.
Enameled Porcelain Steel Sample
Being an NPR junky, I've heard a few stories that I'd like to revisit….coal mine pollution in West Virginia's waterways and cities contributing to global warming.  Now I'll have to justify heating up a kiln to address these issues….  I think I've got my work cut out for me, in the past I've struggled with subject matter, not the case here.
Bridge-y part that I really like.
So that's what I want to make, how about you?
I'm Sarah Loch-Test, an artist from Columbus, Ohio. I've been making jewelry for as long as I can remember! I like to have fun with my work and combine childhood obsessions (like Dinosaurs!) with elements of design and craft that inspire me. Art Nouveau, Islamic and Indian craft are my favorite sources of inspiration and I hope you can see that in my jewelry. My work can be found at the Mac Worthington Gallery, The Columbus Cultural Arts Center and on permanent display in Northland High School. I'm a graduate of the B.F.A. craft program at Kent State University, concentrating in Jewelry Metals and Enameling. I sometimes get distracted and work in other mediums such as felt or will do some sewing. I've been in shows and exhibitions at Kent State, the SNAG Conference and around the Columbus Area. You can view other work at www.SarahLoch-Test.com Find my on Facebook: www.facebook.com/SarahLochTestJewelry Twitter: @SarahLochTest Currently I'm in Pittsburgh, PA at the Society of Contemporary Craft, where I am the first ever Studio Apprentice. I'll soon be moving to North Carolina, to start grad school at East Carolina University.
Latest posts by Sarah Loch-Test (see all)