The kind of metalsmithing I do requires a lot of special tools. Most of them are simple enough that I'm able to make them myself. Usually all that is required is a piece of steel rod, a chop saw, a grinder, a sander, and sometimes a big torch, sometimes a lathe, sometimes a welder. Below is a universal stake holder I made to hold homemade stakes. The holder part is made from two track roller brackets from an old bulldozer, the bottom one welded to a 1″ steel rod. The stake it is holding in the first picture is for one specialized purpose, to create the recess on the bottom of my pet urns where the closure plate goes. The second picture shows me doing that task. The larger hammer in the first picture is a bodyworking hammer I purchased from McMaster Carr. It's American made, and higher quality and less than half the price of the fancy German hammers. The only drawback was that I had to polish the heads myself. The smaller hammer is a gem I bought from Dixon (Do they still exist?) about 30-some years ago.
The next picture shows a stake I made to fulfill a need I had when making my watering can. The green paint attests to the fact that the piece of steel came from an old junked John Deere combine.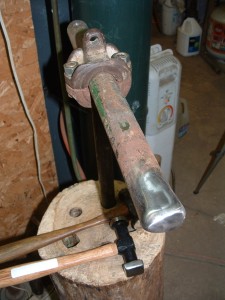 The picture below shows the holder with a ring mandrel (useful for many things besides rings). There's a bushing on the shank to make it fit the holder. On the stump are two other mandrels of different tapers that I made on the lathe.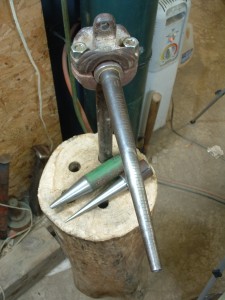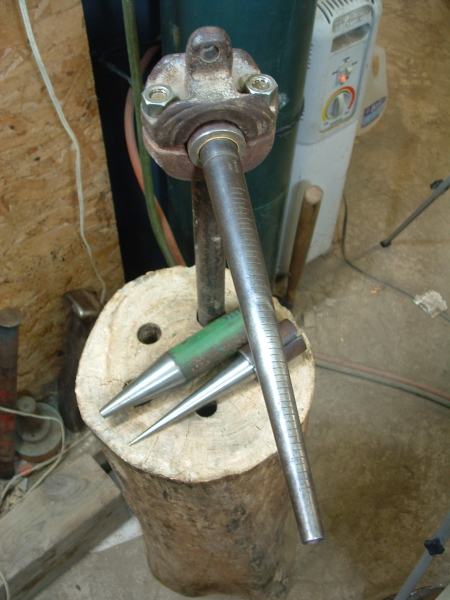 Latest posts by shelbyvision (see all)