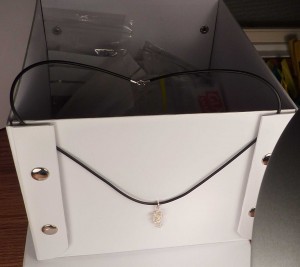 I have to say my trusty DVD and CD storage boxes are coming in handy for a lot more than storing equipment. When I need a reflector or a neutral background I grab an empty box and voila!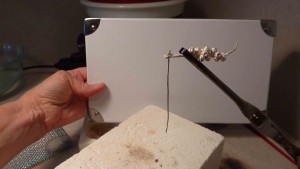 Using the box itself to prop up pieces for photos is like having an extra pair of hands. The problem is that the shadow, while not bad, detracts from the piece and creates an untidy background.  If it's not reflections it's shadows!  Sometimes I think I'm spending more time on these photos than on the work itself.  Not true, but it does feel that way when a photo isn't working.
Today I hung the pendant at a distance from the background.
This may all seem very basic to a photographer but I have never trained and I'm using my point and shoot Lumix.  Trial and error is how I'm learning and many an hour on the computer has been spent sorting the good from the bad and the ugly!
I'd prefer a whiter backdrop but hopefully I'll get a system going by process of elimination.  My gut feeling is it's worth taking this time now before I photograph too many more pieces that will potentially be for sale.
The red box comes in handy too.  The black doesn't work as well.
 Now, all I have to do is choose my shop colours.  Oh joy!